LSC-Kingwood Dental Hygiene
Dental Hygiene Program Information
Mission Statement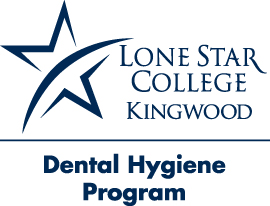 The mission of the dental hygiene program is to produce competent graduates whose technical skills, acumen and interpersonal communication skills make them an asset to any employer and the community.
Philosophy
The philosophy of the dental hygiene program is to provide a learning environment that allows students to develop to the full extent of their ability, succeed in a competitive work environment and provide a service to the community.
Goal
The goals of the dental hygiene program are to:
Facilitate the development of entry level dental hygienists who possess comprehensive knowledge and skills to render competent professional dental hygiene patient care to the public.
Apply the legal and ethical standards of the practice of dental hygiene.
Develop the ability to critically evaluate scientific literature for use in providing evidence based dental hygiene care.
Exemplify the role of the dental hygienist in the community through clinical enrichment experiences and volunteer activities.
Teach students to seek lifelong learning through continuing education courses on the latest developments in dentistry and medicine.
Foster a commitment of professional development through an active role in professional associations.
The dental hygiene program is accredited by the Commission on Dental Accreditation and has been granted the accreditation status of approved without reporting requirements. The Commission is a specialized accrediting body recognized by the United States Department of Education. The Commission on Dental Accreditation can be contacted at (312) 440-4653 or at 211 East Chicago Avenue, Chicago, IL 60611-2678. The Commission's web address is: http://www.ada.org/100.aspx
Attend a Dental Hygiene Information Session to find out more
Dental Hygiene Information Sessions are held on Kingwood campus. Please double check the website for specified time and location. If you cannot attend on campus, it is available via an online power point presentation. Attendance is mandatory for all students wishing to apply to the program. Students will receive an access code at each session.
Upcoming Information Sessions
May 16, 2019 at 5:00 p.m. in MUS 117*
June 13, 2019 at 5:00 p.m. in MUS 117*
August 22, 2019 at 5:00 p.m. in MUS 117*
September 19, 2019 at 5:00 p.m. in MUS 117*
October 17, 2019 at 5:00 p.m. in MUS 117*
November 21, 2019 at 5:00 p.m. in MUS 117*
January 16, 2020 at 5:00 p.m. in MUS 117*
February 20, 2020 at 5:00 p.m. in MUS 117*
*Room is subject to change.
Need Help?
We have made every effort to provide all the information you'll need about the LSC-Kingwood Dental Hygiene program. However, if you do not find the information you need in this Web site, please contact: Deirdre Hall, Healthcare Specialist at LSC-KCDentalHygiene@lonestar.edu.