LSC-Kingwood Fire Science Technology Department
Steps of Enrollment and Success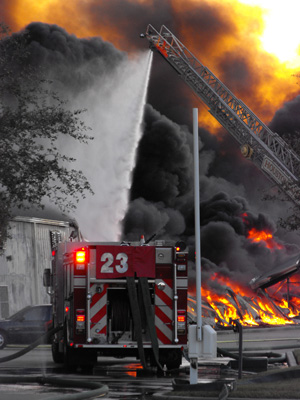 You must first apply at Lone Star College-Kingwood through the online application process. Admissions Application
You must meet with an academic advisor at the Lone Star College-Kingwood campus to ensure you have met the eligibility requirements contained in the following links: FIRS1301

-OR-

Satisfactory scores on placement exams. Your scores must be approved by the advisor before you register. If your scores are not within the acceptable range you can also take remedial English courses to fulfill the English requirement. This is subject to advisor approval. These courses must be completed during the Spring or Summer semester and before the Fall academy. English requirements must be met before you start within any of your Fire Certification Courses. Note: You may register before completing the English requirement, but if English requirement is not met, you will forfeit your spot within the academy. The advisor can also assist you with Financial aid and student loan applications process.
Once an advisor has verified your eligibility to enter the program, you will be allowed to register for courses (AAS, Certificate, and Continuing Education).
Classes will start at 5pm-11:15pm, Monday-Thursday.
After you register, but before you can attend the Lone Star College-Kingwood Fire Academy, you must be declared physically fit by your physician. A Physical Exam Form will be provided to you and must be completed by your physician, then returned to the Director on the first day of the academy. You will not be able to participate in the class until Physical Exam form is turned in.
There is no separate application process for the academy. Courses are filled on a first come first serve basis. Please remember there are a limited number of spots available. Registration for the Fall/Summer academy will begin in August. Enrollment is limited to 25 students.
Lone Star College-Kingwood Fire Academy will begin in August and will end in May. This is a two semester course load, approximately eight months.
General Physical Fitness Requirements:

Must be able to run 1.5 miles under 13:15 minutes.
Must be able to lift heavy objects - approximately 150 lbs.
Must fully participate in a required physical agility course while attending the academy.
Must be in good general health.
Your weight must be in proportion to your height.
Must turn in Physical Exam Form, completed and signed by your physician - due by the first week in January and delivered to Program Director at LSC-Kingwood.

Background Check turned into Admissions Counselor and approved by the program director.
Physical Form
Financial Aid
Financial Aid is available through the financial Aid office (see your advisor)
Academy Costs
| | |
| --- | --- |
| Tuition (In-District) | $900** |
| Tuition (Out-of-District) | $1,200** |
| Books | $400 |
| Uniform | $300 (approx.) |
| Running Shoes | Own Purchase |
| Fire Fighter Gear Rental (9 months) | *$775.00 + $200 Deposit |
*Your own NFPA Structural Firefighting Gear may be used upon Director's approval. All personal gear used must have a current NFPA Advanced Inspection Certificate that will be good throughout the entire class.
**Prices subject to change
Gear Rental
Fire gear rental package - Bunker pants and coat, Helmet, Gloves, Hood, Bunker boots, Gear and SCBA bag
$775.00 plus $200.00 refundable deposit
PT Uniform Package - 4 T-Shirts w/ LSC logo, 2 Gym Shorts w/ LSC logo, 1 Sweatpants w/LSC logo, 1 Sweatshirt w/LSC logo
$ 100.00
Jones & Bartlett Book Package - Fundamentals of Firefighting 2nd Ed, Fundamentals of Firefighting Workbook, HazMat Prep Awareness and Ops, Exam Prep Firefighter 1 & 2)
$ 245.00
Recommended Reading (Not Required) - Essentials of Fire Fighting and Fire Department Operations (6th Edition)
$93.00
Download the H&H Turnouts Flyer
Required Material
Fundamentals of Firefighter Skills, 2nd Edition
Fundamentals of Fire Skills Student Work book 2nd edition, Jones and Bartlett
Hazardous Materials Awareness and Operations, Jones and Bartlett
Exam Prep. Firefighter 1 and 2