Global Grit Initiative
Lone Star College-Tomball has become a leader in the practice of incorporating good GRIT into the classroom. The Global GRIT Initiative is a project in which LSC-Tomball will partner with other advocates for the importance of GRIT to the average college student to continue developing ways to encourage good GRIT and share what we've learned.
GRIT Summit
The first annual GRIT Summit, was held October 14 at LSC-Tomball, brought together 100 representatives from community colleges, ISDs, and global educational research firms to discuss what GRIT is, why it is important, and what the future of GRIT in the classroom should look like. Grit Summit 2017 will be held on Friday, October 13, 2017 from 9am - 4pm at Lone Star College-Tomball. For more information, visit our Grit Summit page.
The Research
Learn more about the 2015 Pearson case study conducted on the LSC-Tomball campus.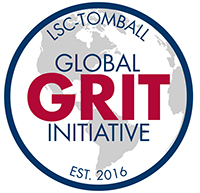 GGI Events
Hard Thing Challenge, Coming fall 2017
2nd Annual GRIT Summit
October 13, 2017
LSC-Tomball