Creative Services
Goal
Provides multimedia instructional services to faculty and staff on the campus that primarily focuses on:
For All Creative Services Requests
Lead Time Required
Print: 2 weeks
Graphic Design: 3 weeks
Photography, Video & Signage: 1+ month
Requesting Services
All requests are required to be completed online. Complete the form as thoroughly as possible.
Print & Material Charges
Due to the high cost of materials being produced, a budget code is required for many print services. For campus events, Creative Services provides 15 free color fliers. Any additional material is charged based on size, quantity and material used. A price guide is available upon request.
Graphic Design & Signage
The design team works exclusively with faculty and staff in support of their educational needs. The department operates on a first come, first served basis. It is best to give staff members at least three to four weeks to complete a project with the possibilty of several design drafts, edits and print production. Outdoor signage is a multistep process requiring at least four weeks' notice to complete.
Photography
Creative Services is available for event photography and personal portraits as needed for college programs. Due to the volume of requests, it is recommended that photography requests are done at the beginning of the semester so that all events run as smoothly as possible. Additionally, it is recommended that the photographer be invited to the first planning meeting in order to discuss turnaround dates/deadlines.
Video Production
Video production services primarily focus on supporting educational areas. Creative Services captures and edits instructional materials that can be uploaded for classroom instruction. They also support faculty and staff by recording guest speakers, professional development workshops, as well as producing videos for the web; promoting events and campus life. Video work is available on a first come, first served basis. It is recommended that video requests are made at least one month in advance and to allow two to four weeks for editing. Video equipment can also be checked out for classroom use and interview sessions on a first come, first served basis. For equipment set-up, please notify at least two weeks in advance.
Model Release
Remember to consult with Creative Services regarding model release forms.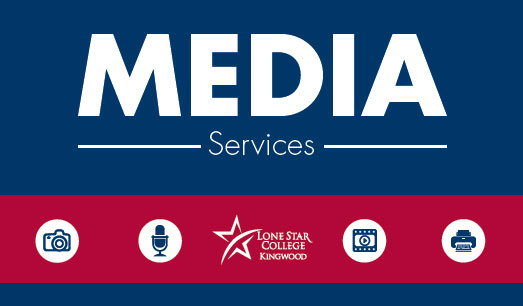 Award Winning Creative Services
PR Xchange Awards (Gold)
- Advocacy Materials (2016)
- Advocacy Materials (2015)
NCMPR Paragon
- Computer Illustration (2015)
NCMPR Medallion (Gold)
- Student Handbook (2015)
- Banner (2014)
- Computer Illustration (2014)
- Flier/Brochure (2014)
- Wild Card (2014)
NCMPR Medallion (Silver)
- Outdoor Media (2015)
- Flier (2015)
- Flier/Brochure (2014)
- Folder (2014)
- Logo Design (2014)
NCMPR Medallion (Bronze)
- Interior Signage (2015)
- Poster (2015)
- Banner (2014)
- Flyer/Brochure (2014)
Contact Information
Creative Services
281.312.1669
Kingwood.Media@LoneStar.edu
Jason Watson
Manager, Media Services
281.312.1743
Jason.W.Watson@LoneStar.edu
Jose Vela
Video Production
281.312.1707
Jose.J.Vela@LoneStar.edu
Diana Sorensen
Photography
281.312.1571
Diana.W.Sorensen@LoneStar.edu
Taylor Robson
Graphic Design
281.312.1669
Jarred Anderson
Print Production
281.312.1669