Hours and Locations
Library Notices
View regular hours through August 19, 2018 below.
Check with specific campus and center libraries and learning commons for their hours.
The LSC-Kingwood Library is closed due to storm damage; however, assistance is available on campus at SCC 255 (Tutoring area) and LSC-Atascocita. Updates are available at LSC-Kingwood Library.
Research databases, including eBooks, are available 24/7.

Campus Libraries Hours - Summer II Semester: July 12-August 19, 2018
Click Grid to Enlarge for Viewing/Printing: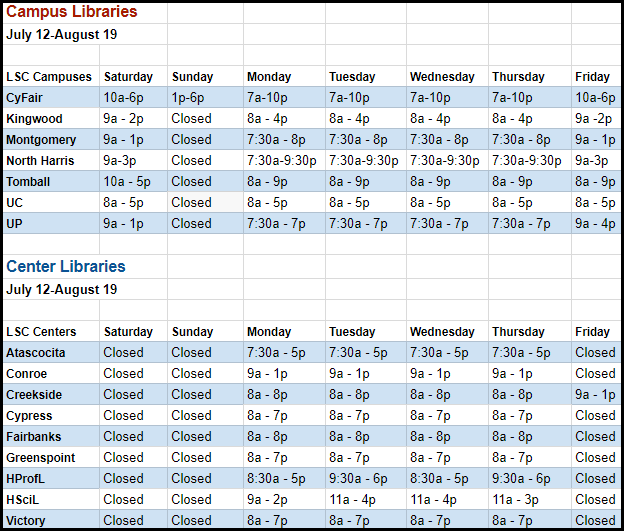 Sun: 1 pm - 6 pm
Mon: 7 am - 10 pm
Tue: 7 am - 10 pm
Wed: 7 am - 10 pm
Thu: 7 am - 10 pm
Fri: 10 am - 6 pm
Sat: 10 am - 6 pm
Sun: Closed
Mon: 8 am - 4 pm
Tue: 8 am - 4 pm
Wed: 8 am - 4 pm
Thu: 8 am - 4 pm
Fri: 9 am - 2 pm
Sat: 9 am - 2 pm
Sun: Closed
Mon: 7:30 am - 8 pm
Tue: 7:30 am - 8 pm
Wed: 7:30 am - 8 pm
Thu: 7:30 am - 8 pm
Fri: 9 am - 1 pm
Sat: 9 am - 1 pm
Sun: Closed
Mon: 7:30 am - 9:30 pm
Tue: 7:30 am - 9:30 pm
Wed: 7:30 am - 9:30 pm
Thu: 7:30 am - 9:30 pm
Fri: 9 am - 3 pm
Sat: 9 am - 3 pm
Sun: Closed
Mon: 8 am - 9 pm
Tue: 8 am - 9 pm
Wed: 8 am - 9 pm
Thu: 8 am - 9 pm
Fri: 8 am - 6 pm
Sat: 10 am - 5 pm
Sun: Closed
Mon: 8 am - 5 pm
Tue: 8 am - 5 pm
Wed: 8 am - 5 pm
Thu: 8 am - 5 pm
Fri: Closed
Sat: Closed
Sun: Closed
Mon: 7:30 am - 7 pm
Tue: 7:30 am - 7 pm
Wed: 7:30 am - 7 pm
Thu: 7:30 am - 7 pm
Fri: 9 am - 4 pm
Sat: 9 am - 1 pm
Center Learning Commons/Libraries Hours - Summer II Semester: July 12-August 19, 2018
Sun: Closed
Mon: 7:30 am - 5 pm
Tue: 7:30 am - 5 pm
Wed: 7:30 am - 5 pm
Thu: 7:30 am - 5 pm
Fri: Closed
Sat: Closed
Sun: Closed
Mon: 9 am - 1 pm
Tue: 9 am - 1 pm
Wed: 9 am - 1 pm
Thu: 9 am - 1 pm
Fri: Closed
Sat: Closed
Sun: Closed
Mon: 8 am - 7 pm
Tue: 8 am - 7 pm
Wed: 8 am - 7 pm
Thu: 8 am - 7 pm
Fri: Closed
Sat: Closed
Sun: Closed
Mon: 8 am - 7 pm
Tue: 8 am - 7 pm
Wed: 8 am - 7 pm
Thu: 8 am - 7 pm
Fri: Closed
Sat: Closed
Sun: Closed
Mon: 8 am - 8 pm
Tue: 8 am - 8 pm
Wed: 8 am - 8 pm
Thu: 8 am - 8 pm
Fri: Closed
Sat: Closed
Sun: Closed
Mon: 8 am - 7 pm
Tue: 8 am - 7 pm
Wed: 8 am - 7 pm
Thu: 8 am - 7 pm
Fri: Closed
Sat: Closed
LSC-Health Professions Library
Sun: Closed
Mon: 8:30 am - 5 pm
Tue: 9:30 am - 6 pm
Wed: 8:30 am - 5 pm
Thu: 9:30 am - 6 pm
Fri: Closed
Sat: Closed
Sun: Closed
Mon: 9 am - 2 pm
Tue: 11 am - 4 pm
Wed: 11 am - 4 pm
Thu: 11 am - 3 pm
Fri: Closed
Sat: Closed
Sun: Closed
Mon: 8 am - 7 pm
Tue: 8 am - 7 pm
Wed: 8 am - 7 pm
Thu: 8 am - 7 pm
Fri: Closed
Sat: Closed