lifePATH®: A Four-Year Pathway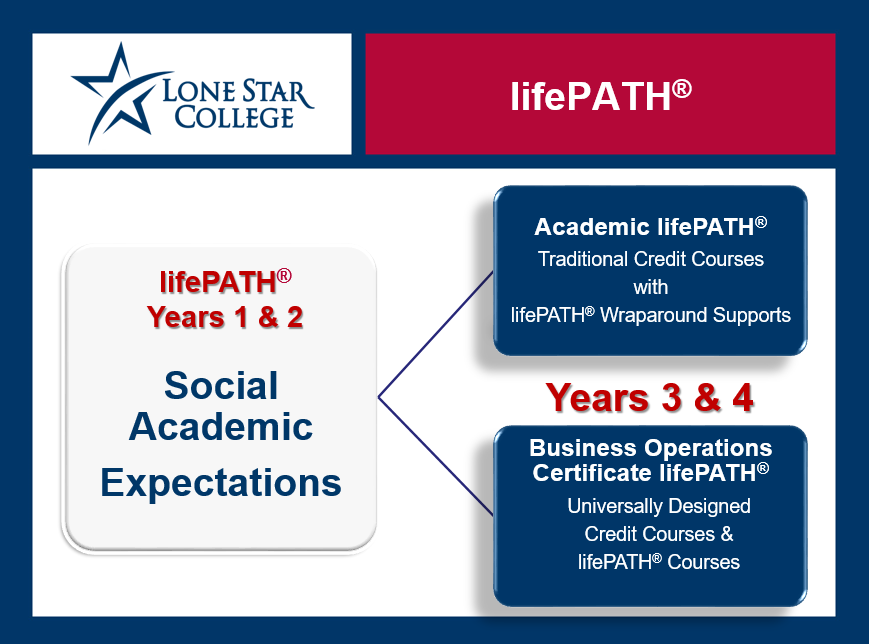 lifePATH® at LSC-Tomball
Lone Star College-Tomball's lifePATH® program provides a unique opportunity for adult students to learn the social and skill expectations needed in the business world, the academic world, and personal relationships. LSC-Tomball's lifePATH® is a four-year comprehensive model of post-secondary educational opportunities for students who have disabilities that affect executive functioning. Students can earn various Lone Star College certificates in Occupational Studies, ACT® WorkKeys® Assessments, the ACT® National Career Readiness Certification, and can choose to earn college credit in general Lone Star College credit courses. Students can exit lifePATH after two-years, receiving a Lone Star College Certificate in Foundational Occupational Studies. All students who choose a four-year lifePATH® option participate in an internship during their fourth year.
Students are selected as part of a cohort. Each cohort remains together for all classes during the first two years. During years three and four, students continue to take lifePATH™ core classes as a cohort.
Attend an Information Session
Details about the lifePATH® program and its various options are presented during information sessions. Potential students are required to attend an information session as part of the application process.
lifePATH® Information Session Dates
Tuesday, October 23, E100 4:30-5:30 pm
Thursday, November 15, E100 4:30-5:30 pm
Thursday, February 7, E100 4:30-5:30 pm
Wednesday, February 27, E100 4:30-5:30 pm
Tuesday, March 19, E100 4:30-5:30 pm
Friday, March 29, E100 10:00-11:00 am
Tuesday, April 2, E100 4:30-5:30 pm
Thursday, April 11, E100 10:00-11:00 am
Wednesday, April 17, E100 4:30-5:30 pm
Tuesday, April 30, E100 4:30-5:30 pm
RSVP
Click here to RSVP, email TC-lifePATH@LoneStar.edu or call 281-655-3630.
Important Dates
The Admissions Application deadline for LSC-Tomball and LSC-Montgomery: Thursday, May 2, 2019 by 12:00 pm.
Admissions lifePATH® Interview Dates: June 18, 19, or 20, 2019, Time TBA.
LSC-Montgomery Admissions Interview Dates: TBD.
Questions?
For questions, concerns, or help with the application process, contact us at TC-lifePATH@LoneStar.edu or 281.655.3607.
For the most up-to-date information, subscribe to our mailing list.