LSC-North Harris President
Welcome from the Interim President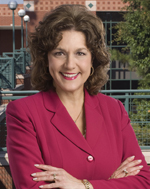 Welcome to the numerous learning opportunities at Lone Star College-North Harris. Whether your goal is to prepare for a career, upgrade your skills, or get a solid foundation to continue your education toward a four-year degree, you will find our faculty to be of the highest caliber and our educational programs to be of the highest quality.
We provide a learning environment conducive for our students to achieve their educational goals. Our students are from diverse academic, socioeconomic, cultural, disability, gender, and ethnic backgrounds. They take classes at the W.W. Thorne campus, the LSC-Victory Center and LSC-Greenspoint Center, the Health Professions Building at Red Oak, CHI LSC-North Harris School of Cosmetology, on-line, and at several of the corporate offices in the area. In short, we work with all who walk through our doors to meet their educational objectives.
Is Lone Star College-North Harris for you? See for yourself. I encourage you to take a few more minutes to surf our web site. I also welcome you to stop by the campus for a visit. I know that we will certainly exceed your expectations!
Penny Westerfeld
LSC-North Harris Interim President
281.618.5444
President's Profile
Administrative Assistant to the President
281.618.5440