Spring 2019 Open House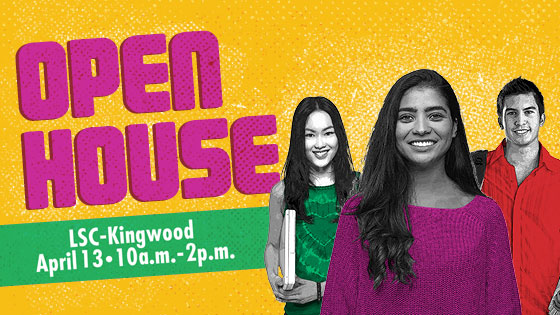 Activities at Every Campus
We're opening our doors! Join us April 2 (April 13 for LSC-Kingwood) for a close-up look at our campuses and really get a feel for what college life is all about. Each Open House event will have:
Campus Tours
Financial Aid Information
Transfer Opportunities
Campus Life
Clubs & Organizations

Intramural Sports
Help with Admissions
Free Food
Prizes
What Can We Do For You?
Lone Star College gives students a pathway to high quality higher education that is close to home and affordable. LSC costs a fraction of four-year universities like Texas A&M or the University of Houston.
78 percent of all Texas college students who completed a degree at a four-year institution were previously enrolled at a community college like LSC. Studies show that students who complete their first two years of higher education at a community college like Lone Star College and then transfer to a four-year institution are more likely to graduate with a bachelor's degree than those who actually begin their college careers at a four-year university.
LSC offers many academic transfer degrees to help students launch successful careers. Students can also learn about the Honor's College at LSC which offers high-achieving students the opportunity to graduate with Honors distinction. LSC also offers GED® classes for students to gain a high school equivalency diploma to apply to college, start training, or get a better job.
Attending or know someone else that should attend? Share now: