Resource Development and Administration
Welcome
The Resource Development & Administration (RDA) office assists faculty and staff in obtaining and managing grant funding to advance the mission, vision and strategic Outcomes of Lone Star College System.
Mission
Our mission is to support the development, enhancement, and management of grant programs designed to enhance student success and completion.
Vision
To accomplish our mission RDA aims to be:
An Informational Resource: in soliciting external funding opportunities, monitoring legislation and appropriations that impact grant programs;

Liaisons: that work with local, state and federal agencies to secure funding and facilitate identification of and agreements with project partners;

Research Experts: to ensure that all research projects are in compliance with federal human subject research requirements and act in accordance with federal common rule funders;

Subject Matter Experts: in the development, submission, and negotiation of proposal applications; and,

A Support System: that provides grant management support to project directors and monitors project goals, deliverables and outcomes.
Campus Spotlight
Congrats to LSCS's Corporate College.
In September the Texas Workforce Commission (TWC) awarded LSC-Corporate College $1.4M for customized training. This training is critical for maintaining the strength of Texas business as they strive to remain competitive in the global economy.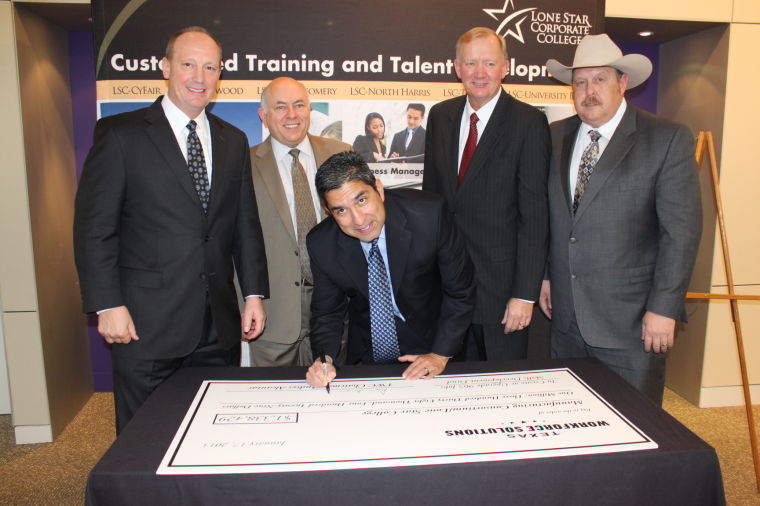 Resource Development and Administration is here to help you with your grant writing, grant management, or Institutional Review Board needs.
Contact Information
Elizabeth B. Thompson , CFLE, CMPI
Executive Director
Elizabeth.B.Thompson@lonestar.edu
832-813-6815
Renae Johnson, MPA
Systems Director, Grant Development
Renae.Johnson@lonestar.edu
832-813-6229
Pamela Wyatt, MBA
Director, Grant Management & Compliance
Pamela.U.Wyatt@lonestar.edu
832-813-6272
Alisa M. McLendon, M. Ed
Compliance Analyst
Alisa.M.McLendon@lonestar.edu
832-813-6806
April Odell
Compliance Analyst
April.M.Odell@lonestar.edu
832-813-6867
Patricia Mayo-Bravo
Staff Assistant II
Patricia.Mayo-Bravo@lonestar.edu
832-813-6717
Christin Cerda
Grant Developer
Christin.S.Cerda@lonestar.edu
832-813-6588
Erin Comeaux, MLA
Grant Developer
Erin.Comeaux@lonestar.edu
832-813-6543

Cynthia Drummond,
MA, LPC-S
Grant Developer
Cynthia.Drummond@lonestar.edu
832-813-6260

Victoria Waters, Ph. D
Grant Developer
Victoria.A.Waters@lonestar.edu
832-813-6615
Randall Gentry, MA
Grant Developer
Randall.A.Gentry@lonestar.edu
832-813-6555