Resource Development and Administration

The Resource Development & Administration (RDA) office assists faculty and staff in obtaining and managing grant funding to advance the mission, vision and strategic Outcomes of Lone Star College.
Resource Development and Administration is here to help you with your grant writing, grant management, or Institutional Review Board needs.
View the Resource Development and Administration Brochure
LSC Posts Annual Grant Report for FY2018
The LSC FY2018 Resource Development and Administration Annual Grant Report has been released. Its highlights include management of 71 active grants totaling $27,220,726 in value, grant awards to assist LSC-Kingwood and LSC students in recovering from Hurricane Harvey, hosting of Community College Day with the National Science Foundation and continued partnership with the LSC Foundation
RDA Goes Live in ServiceNow
RDA is pleased to announce that it has implemented ServiceNow through the LSC Service Center. Anyone wishing assistance with exploring grant funding or assistance with developing a specific grant can now submit a ServiceNow ticket. Simply go to the LSC Service Center and select Grant Services. Once your ticket is submitted, you will be notified when the ticket is assigned and you will have the ability to track the progress of that ticket throughout the grant. Creating a ticket is simple. The Creating a RDA Ticket Job Aid can assist you in submitting your first ticket. RDA looks forward to hearing from you!
Perkins Grant Helps Students Learn Fire Fighting Skills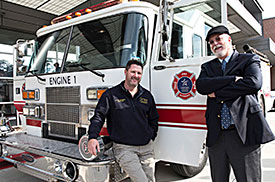 Lone Star College Kingwood accessed funds from the Perkins Basic Grant Program to purchase equipment that will ensure students get the high-skill training they need to enter the workforce in the high-demand career of fire science.
The Perkins Basic Grant Program supports Lone Star College in educating students who enroll in courses that prepare them for high-demand occupations.
We Aim To Be
An Informational Resource: in soliciting external funding opportunities, monitoring legislation and appropriations that impact grant programs;

Liaisons: that work with local, state and federal agencies to secure funding and facilitate identification of and agreements with project partners;

Research Experts: to ensure that all research projects are in compliance with federal human subject research requirements and act in accordance with federal common rule funders;

Subject Matter Experts: in the development, submission, and negotiation of proposal applications; and,

A Support System: that provides grant management support to project directors and monitors project goals, deliverables and outcomes.
Contacts
Elizabeth B. Thompson,
CFLE, CMPI
Executive Director
Elizabeth.B.Thompson@lonestar.edu
281-655-3730

Charis Keenum, MSW
Grant Developer
Charis.A.Keenum@lonestar.edu
281-655-3735




Cynthia Drummond, MA, LPC-S
Director, Grant Development Cynthia.Drummond@lonestar.edu
281-401-5327

Yolanda Lopez, M.A., M.S.
Grant Developer
Yolanda.Lopez@lonestar.edu
281-655-3733

Pamela Wyatt, MBA
Director, Grant Management & Compliance
Pamela.U.Wyatt@lonestar.edu
281-655-3732

David Grebe, M.A.
Grant Developer
David.Grebe@lonestar.edu
281-655-3734

Alisa M. McLendon, M. Ed.
Compliance Analyst
Alisa.M.McLendon@lonestar.edu
281-655-3738

Victoria Waters, Ph. D.
Grant Developer
Victoria.A.Waters@lonestar.edu
281-655-3737

April Odell
Compliance Analyst
April.M.Odell@lonestar.edu
281-655-3736

Laura Wittel, M.A.
Grant Developer
Laura.M.Wittel@lonestar.edu
281-655-3731

Patricia Mayo-Bravo
Staff Assistant II
Patricia.Mayo-Bravo@lonestar.edu
281-655-3739