LSC-Tomball Surgical Technology Department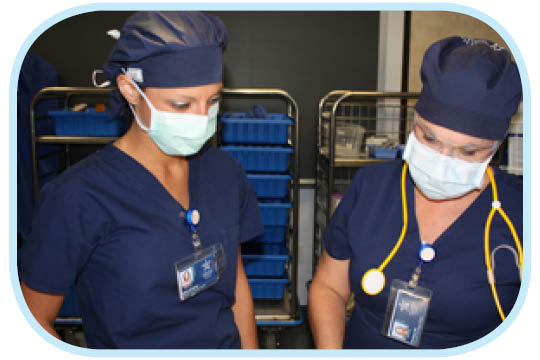 Please continue to return here for the latest news regarding our program.
The application period for fall 2019 closed on April 30. Applications for fall 2020 will be accepted starting in January.
Applications to the program are currently being accepted for the fall semester. Prior to submitting the application, students should speak with an advisor. Please contact Cynthia Walton (phone 281-826-5356) with advising questions related to the program.
Only students who have been accepted into the program by the Director of Surgical Technology are allowed to register for the Surgical Technology classes.
Attention Certified Surgical Technologists
If you are currently certified as a CST© and would like to obtain an AAS, we have a track designed specifically for you. Gather your CST© number and your transcripts from your surgical tech program and schedule an appointment with the Program Director. Candidates must also be able to secure employer verification that you have been employed for the equivalent of at least six (6) months full time as a CST©. Please contact the Program Director for more information.
About the Program
The Surgical Technology Program at Lone Star College-Tomball is accredited by the Commission on Accreditation of Allied Health Education Programs, or CAAHEP, located at 25400 U.S. Highway 19 North, Suite 158, Clearwater, FL 33763, phone: 727-210-2350, or by visiting their website at www.caahep.org. Accreditation is achieved upon the recommendations by the Accreditation Review Council on Education in Surgical Technology and Surgical Assisting, or ARC-STSA, located at 6 West Dry Creek Circle, Suite 110, Littleton, CO, 80120, phone: 303-694-9262. You may also visit them on the web at www.arcstsa.org.
To comply with CAAHEP Standard V.A.4, Publications and Disclosures, the following board certification exam pass rates information is provided:
| Graduation Year | Students Entering/Graduating | Pass Rate |
| --- | --- | --- |
| 2018 | 15/13 | 87% |
| 2017 | 16/15 | 94% |
| 2016 | No cohort - AAS transition | N/A |
| 2015 | 14/12 | 86% |
| 2014 | 13/13 | 100% |
Physical and Psychosocial Performance Requirements
As a surgical technology student and practitioner, you will be required to be able to perform/demonstrate the following physical and psychosocial skills:
Exhibit positive interpersonal skills in patient, staff, and faculty interactions.
Demonstrate calm and effective responses in emergency situations.
Make appropriate judgment decisions.
Hear and understand muffled communication without visualization of the communicator's mouth/lips.
Demonstrate emotional stability.
Manipulate instruments and supplies with speed, dexterity, and good eye-hand coordination.
Communicate and understand fluent English both verbally and in writing.
Be free of communicable diseases and chemical abuse.
Demonstrate immunity to rubella, tuberculosis, and hepatitis B, or be vaccinated against these diseases, or willing to sign a waiver of release of liability in regards to these diseases.
Must be able to meet the following physical demands: bending, walking, standing, lifting, carrying, pushing, and handling equipment, supplies or patients exceeding 25 pounds.
Must be able to lift 25 to 35 pounds without restrictions.
Must be able to stand for extended periods of time.
Must be able to tolerate environmental temperatures in the 60 degree Fahrenheit range.
Must not have any open lesions on hands or arms, such as psoriasis or dermatitis.
Will not be permitted to scrub in the clinical practicum if open cuts, sores, or any break in the skin of the hands and arms exist.
Thank you for your interest in the Surgical Technology Program.
Remember: Eligibility for the program includes passing a criminal background check. State licensing and affiliated facilities require passed criminal background checks.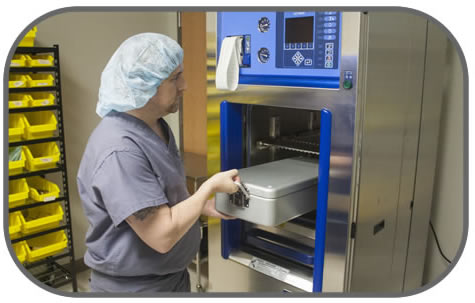 Additional requirements of the program and all forms may be found on the Surgical Technology Program Requirements page.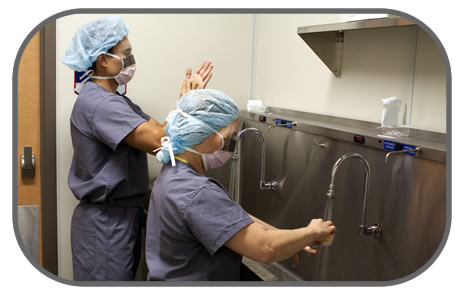 Highlights of LSC-Tomball's Surgical Technology Program
Trains students to work as a vital member of an operating room health care team.
Courses are held on-campus and clinicals conducted at off-campus local hospital sites to enable students to have training in functional operating rooms.
"Studying Surgical Technology at Lone Star College in Tomball has made a positive impact in my life, emotionally, financially and academically. Becoming a Surgical Technologist has helped me realize that helping people is my passion, it has given me the financial stability to do things that I could not have done before and academically it has helped me grow to a higher level of education. The Program Director, Clinical Director and Preceptors are all very helpful and understanding of every student's needs. This program has definitely changed my life in a very positive way."
Sae Alin Hunt, CST
Class of 2014
LBJ Medical Center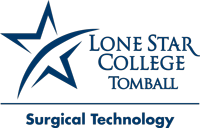 Degree Plan
Review the schedule of Surgical Technology Degree Plan .