Women's Center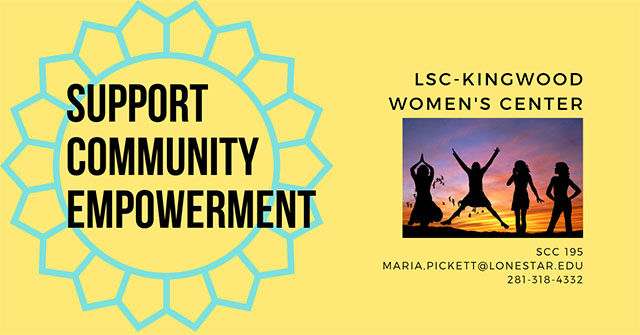 Welcome to The Women's Center at Lone Star College-Kingwood! The Women's Center strives to:
Provide resources to students. If we can't answer a question, we will work with you to figure who can.
Be a safe, comfortable space on campus. There is always hot coffee and tea in the office, as well as a listening ear.
Build connections between women. Our community supports one another through our similarities, but also our differences.
Educate the whole campus community on women and gender issues. Let us know if you would like us to speak at your event or class about anything relating to these areas.
Collaborate with campus and community organizations. We recognize our community has expertise and experience in many areas that can benefit students.
Support students academically, professionally, and personally. We are here for you in whatever way you need us to be.
SUPPORT – COMMUNITY – EMPOWERMENT
Check out our Facebook for upcoming events and important information.
Hours & Location
Monday - Friday
8:00am - 5:00pm
SCC 234