Speaking Excellence Center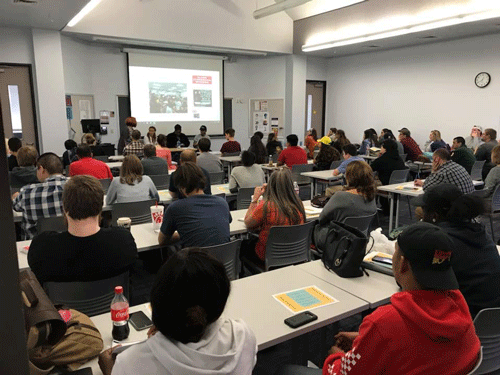 The Speaking Excellence Center (SEC), now in its 10th year, is a multiliteracy Center focused on bringing excellence to communication in a variety of contexts—interpersonal, business, online, small groups, and, of course, public. All members of the campus community can benefit from our emphasis on promoting emotional intelligence, digital literacy, intercultural competence, and authentic human collaboration.
Location & Hours
The SEC is located in the heart of LSC-Tomball in room C210.
Coaching is available during the following times:
| | | |
| --- | --- | --- |
| | SESSION 1 | SESSION 2 |
| Mondays | 8 - 9:15 am in C210 | 10 am - 2 pm by appt via WebEx |
| Tuesdays | 8 - 9:15 am in C210 | 1 - 2 pm in C210 |
| Wednesdays | 8 - 9:15 am in C210 | Noon - 2 pm in C210 |

*Hours are subject to change due to special events.
To schedule your appointment, email Lindsay Scott.
Faculty may request trainings and use of the SEC by contacting Clark Friesen.
Things We Do
The SEC was originally focused on providing student speakers with the opportunity to practice speeches in a classroom space, using campus media carts and equipment, items few have at home.
Since it launch, the SEC has developed a number of other valuable services for campus community clients.
Some services we offer:
Public speaking: Including practice space, outline help, recording speeches, visual aid improvement, responding to questions, EDUC 1300 presentations, TEDx speaker training, Honors Day preparation, coping with speech anxiety.
Group dynamics: Including presenting as a group, group decision making processes, achieving consensus, group leadership, team building games and exercises, delegation, and working with virtual teams.
Emotional intelligence training: Including expanding emotional vocabulary, understanding nonverbal communication, empathy building, mindfulness training.
Cross cultural communication: Including tips for competent intercultural relations, understanding collective and individualistic cultures, adapting to cultural norms, conversational practice (ESL).
Deliberative dialogue moderator training (for individuals or groups)
Conducting deliberative dialogues (for classes or student organizations)
Virtual reality (360 video) training: Including introductory training, using VR for research, building empathy and cultural awareness with VR, teaching with 360 video and more.
Resume development and interview training
Network development training
Don't see what you need? Request a service! Course and individual specific services may be designed to meet your needs.

"Excellence is never an accident. It is always the result of high intention, sincere effort, and intelligent execution; it represents the wise choice of many alternatives - choice, not chance, determines your destiny. "
Aristotle
Make LSC part of your story.