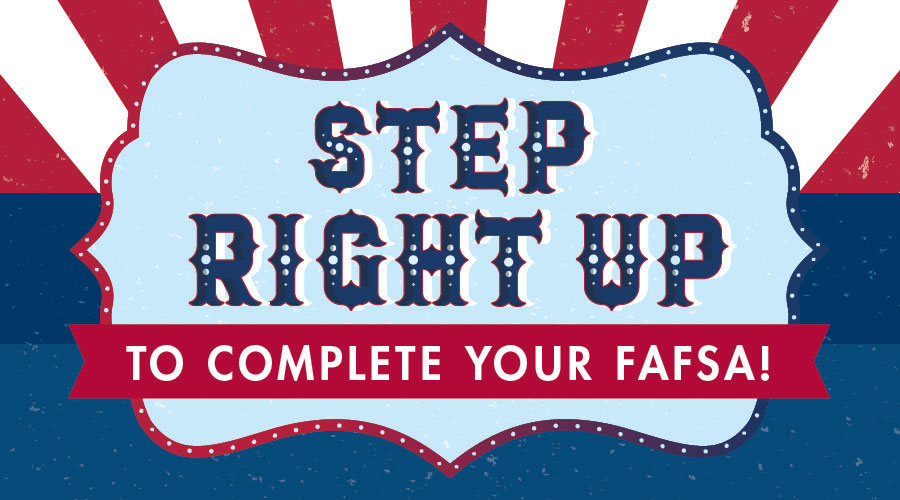 Thursday, March 30, 4Ė7pm at any campus
Discover the carnival of opportunities with your financial aid ticket. Attend a campus near your for expert assistance on college funds (and fun!).
Save the Date
What to Expect
Computer lab access with Financial Aid advisors to walk you through the necessary filing process and answer any questions you may have around:
Filing your FAFSA or TASFA
Documents you need
Scholarships
Grants
Student Loans
What to Bring
To complete the Free Application for Federal Student Aid (FAFSA), you will need:
Your Social Security Number
Your Alien Registration Number (if you are not a U.S. citizen)
Your federal income tax returns, W-2, and other records of money earned. (Note: You may be able to transfer your federal tax return information into your FAFSA using the IRS Data Retrieval Tool.)
An FSA ID (user name and password) to sign electronically
And if applicable: bank statements, records of investments, and records of untaxed income
If you are a dependent student, you will need most of the above information from your parent(s).
What Can We Do For You?
Lone Star College gives students a pathway to high quality higher education that is close to home and affordable. We are accredited the same as universities so the credits you earn transfer while also saving money. (LSC Tuition).
More than half of college graduates earn credit at a community college like LSC (2019, NSF). Studies show that students who complete their first two years of higher education at a community college like Lone Star College and then transfer to a four-year institution are more likely to graduate with a bachelorís degree than those who actually begin their college careers at a four-year university (2019, Jack Kent Cooke).
LSC offers many academic transfer degrees to help students launch successful careers. Students can also learn about the Honorís College at LSC which offers high-achieving students the opportunity to graduate with Honors distinction. LSC also offers GED® classes for students to gain a high school equivalency diploma to apply to college, start training, or get a better job (LSC Programs).
Attending or know someone else that should attend? Share now:
We're Close to Home

View LSC Campuses in a larger map
Campuses
LSC-CyFair
CASA Room 105
9191 Barker Cypress Road
Cypress, TX 77433
281.290.3200

LSC-Houston North Victory
VC-Room 110
4141 Victory Dr.
Houston, Texas 77088
281.836.9600

LSC-Kingwood
LIB 118/120 in the Learning Commons
20000 Kingwood Drive
Kingwood, TX 77339
281.312.1600

LSC-Montgomery
Maverick Student Center, Room "MSC-Commons"
3200 College Park Drive
Conroe, TX 77384
936.273.7000

LSC-North Harris
Student Services Building Commons
2700 W.W. Thorne Drive
Houston, TX 77073
281.618.5400

LSC-Tomball
South Building, Room 114
30555 Tomball Parkway
Tomball, TX 77375
281.351.3300

LSC-University Park
Building 12, Room 223A
20515 TX-249
Houston, TX 77070
281.290.2600

Make LSC part of your story.