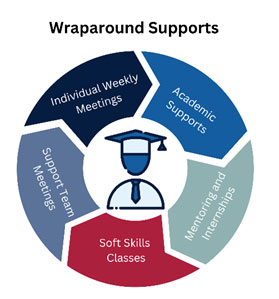 Wraparound support is provided for lifePATH students taking traditional academic college classes and typically occurs after year 2 of the OLSA program. Wraparound supports include individualized weekly meetings; assistance navigating the college environment; strategies for managing stress and anxiety; and support team services.
Wraparound Support is a component of lifePATH that is designed to meet the student's individualized needs by using a holistic approach to gain the necessary skills to pursue an academic degree or certification (non-OLSA).
The academic path can be taken exclusively without OLSA classes, concurrently with OLSA classes, or after the OLSA degree has been completed.
Wraparound Supports Include:
Individual Weekly Meetings
Academic Supports
Mentoring and Internships
Soft Skill Classes
Support Team Meetings
Benefits of Wraparound Supports:
One-on-one individualized weekly meeting with the Wraparound Support Coach
Help in identifying challenges that may interfere with navigating the college environment
Identify effective strategies for dealing with challenges, such as stress/anxiety, organization, self-awareness/advocacy, problem-solving, etc.
Provides an environment to discuss strengths, challenges, troubleshoot, and practice identified strategies to help move toward independence
Support Team (meets three times per fall/spring semester) selected by student and Wraparound Support Coach to help strategize and set goals
Wraparound Support Coach serves as a liaison to campus connections, such as Academic Strategist, tutoring, Disability Services, Transfer Center, etc.
Review of career interests
Guidance with academic planning and registration
Wraparound Support Criteria
Completed TSIA
No more than THREE unexcused absences from OLSA classes
Passing all OLSA classes
Receiving an overall average of 3 (80%) on the Social Expectations rubric
Professors have signed and completed the Wraparound Support Criteria Survey
No, incompletes from the previous TWO semesters
Application Process
Submit a request to wraparound support coach
Campus Locations
LSC-Tomball
Email: TC-lifePATH@LoneStar.edu
Phone: 281.655.3607
Address: 30555 Tomball Pkwy, Tomball, TX 77375
LSC-Montgomery
Email: MC-lifePATH@LoneStar.edu
Phone: 936.271.6149
Address: 3200 College Park Dr, Conroe, TX 77384
Make LSC part of your story.