Jeremy Fain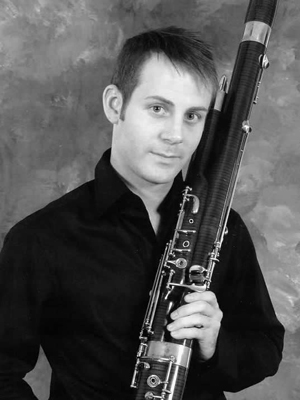 Praised for his beautiful tone and agile technique, bassoonist Jeremy Fain began his musical studies at the age of seven. Quite rapidly, Jeremy established himself as a versatile soloist, orchestral and chamber musician having performed with the Rochester Philharmonic, Buffalo Philharmonic, Binghamton Philharmonic, Abilene Philharmonic, and Lubbock Symphony Orchestras among many others. He has been selected as a fellow to the Pine Mountain Music Festival, Las Vegas Music Festival, National Repertory Orchestra and the AIMS Festival Orchestra in Graz, Austria.
An avid teacher, Jeremy served as teaching assistant and secondary instructor of bassoon at the Eastman School of Music where his duties included teaching bassoon students at Eastman and The University of Rochester as well as leading masterclasses for Eastman bassoonists. He was also an active coach to the Lubbock Youth Symphony Orchestra and is a former educator in the Lubbock Independent School District.
Striving to hone his craft, Jeremy has performed in masterclasses for Rose Corrigan, Steven Dibner, Glenn Einschlag, Judith Farmer, Loren Glickman, John Hunt, Kristen Wolfe Jensen, Judith LeClair, Richard Meek, John Miller, Mark Popkin, Stefanie Przybylska, Patricia Rogers, Barrick Stees, Richard Svoboda, Robert Thompson, K.D. Van Hoesen, and Lecolion Washington.
Jeremy pursued his undergraduate studies at Texas Tech University, graduate studies at The Eastman School of Music, and post-graduate studies at The University of Southern California where his principal teachers included Richard Meek, John Hunt, and Judith Farmer.
Jeremy returned to Houston from Culiacan, Sinaloa – Mexico where he was tenured bassoonist and contrabassoonist with La Orquesta Sinfonica Sinaloa de las Artes. He is now the founder and artistic director of Houston Pro Musica, a chamber music society which showcases and promotes local professional musicians and serves on the faculty of Lone Star College – Montgomery where he teaches Music Theory, Music History, and applied bassoon.
Jeremy can be heard as principal bassoon on Arkiv Music's recently released album, Manhattan Music, recorded with the Canadian Brass and The Eastman Wind Ensemble. He plays on Heckel bassoon #13446.