1996-2001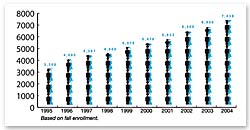 Innovative. Leading-edge. Risk-taking. Student-focused. These are some of the words that describe Lone Star College–Montgomery as it has grown since its debut in 1995.
As Montgomery County experienced rapid population growth and business expansion during the 1990s, it was not surprising that LSC-Montgomery found itself as one of the fastest-growing community colleges in Texas, as well as the entire United States. As the college grew, so did the number of programs and services that it offered.
In spite of the rapid growth, the college maintained its focus on the hiring of excellent faculty members, ensuring that students' classroom experience would prepare them for the next level - whether it be a new career or transfer to a four-year university.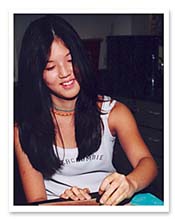 During the college's third year, a partnership between Lone Star College System and six area universities, The University Center, debuted, offering bachelor's and master's degrees to area residents who desired to pursue higher education closer to home. The University Center, located adjacent to the LSC-Montgomery campus, only served to strengthen the college's role in providing an avenue toward a higher degree for its students.
The college enhanced its continuing education program during this time by kicking off an annual summer camp for youth, and establishing the Academy for Lifelong Learning (ALL), which provides educational programs for the burgeoning senior population in the area.
By the fall of 2001, the college's enrollment approached 6,000 students and showed no signs of slowing down. Its center in Conroe relocated from Pinehollow Center to a larger facility, better able to provide light industrial programs, such as welding, telecommunications, and a host of other career-oriented offerings. Also, in 1999 and 2000, the college was the recipient of several large federal and state grants designed to move welfare recipients into the working world through a variety of exciting career-oriented programs.