2002-2007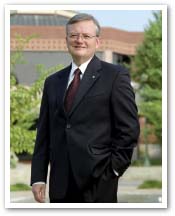 In early 2002, the college's founding president, Dr. Bill Law, accepted the presidency at Tallahassee Community College. A nationwide search provided Lone Star College–Montgomery with its next leader, Dr. Tom Butler, formerly a provost at Northern Virginia Community College's Annandale campus.
Butler, a native Texan, saw the college's rapid growth as an exciting challenge, and systematically put a strategic planning process into place that could help to manage the growth. Not long after his arrival, the first new building on campus was finished - a 72,000-square-foot library and classroom building, giving the college much-needed space for its ever-increasing enrollment.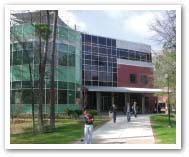 Program expansion included a tripling of the college's capacity for nursing students, with the addition of a full-fledged registered nurse (RN) program, and a transitional program for its vocational nursing students to continue toward becoming RNs. Also, a radiologic technologist program was added to meet the tremendous needs in the health care industry. Other new programs included teacher certification and orthopedic technologist.
The college also found new ways to engage the community through the Lyceum Speaker's Series, a classic/independent film series, and diverse artistic performances and shows.
Truly, the innovative style that characterized the early years of LSC-Montgomery continued to keep the college focused on providing students and the community with a world-class learning environment.
In May 2007, the college's art gallery was named the "Mary Matteson-Parrish Art Gallery," in honor of a longtime former board member and community leader. Also in 2007, and exciting new workforce program was added – Live Entertainment Technology, which trains students to work in sound, lighting and video for a variety of venues such as concerts, church services, hotels, and more.