About The Honors College
The Honors College at Lone Star College offers students the advantages of a small "college within a college," while still providing access to the extensive benefits available through Lone Star College. Honors classes provide a unique intellectual and co-curricular experience.
Honors College students may earn honors academic course credit by enrolling in honors sections, as well as by working with a faculty mentor on honors special topic courses.
Eligibility
Open to new or returning students with at least one of the following:
A high school GPA of 3.5 on a 4.0 scale.
1240 or higher on the SAT (combined math and critical reading sections).
26 or higher composite score on the ACT
3.25 GPA with a 9 or more college credit hours
Benefits
Students admitted into The Honors College at Lone Star College will be admitted into a comprehensive program of study including:
Scholarships
Early registration and Honors orientation
Small, interactive classes and sense of community
Dedicated Honors Faculty and specialized advising
Participation in local and regional conferences
First-year experience unique to Honors
Integration of advanced academics with service learning, Model U.N., study abroad, and more
Professional/industry internship opportunities
Honors designation on transcript
Rigorous coursework, enrichment activities and leadership development
Opportunity to earn honors graduation distinction
Articulation agreements with major transfer universities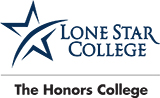 Contact & Campus Information