Paying for College
For most students, figuring out how to pay for college is one of the toughest parts of earning a degree. Use our tips, tools, and guidelines to stay up to date on the best ways to achieve your academic goals.
Tuition & Fees
Attending LSC is an affordable option for most students. Our tuition rates are based on residency and if you need help footing the bill, financial aid is available to most students.
Payment
Current students can make a payment or set up a payment plan on-line via myLoneStar. You can also pay at your campus business office window with cash, check, or debit card. See our payment guidelines for a full list of deadlines and payment options.
Financial Aid
There is a three step process that must be completed each academic year in order to receive financial aid:
Complete a FAFSA (LSCS school code: 011145).
If requested, provide any additional documentation.
Review/accept financial aid award(s).
Financial aid packages may include more than one type of award:
Lone Star College Promise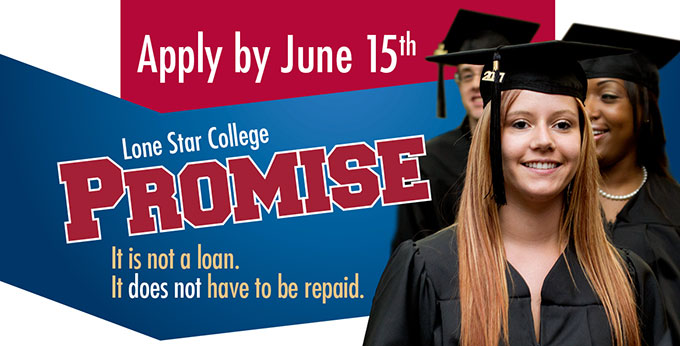 The LSC Promise will fund the balance of tuition and mandatory fees due for students that still demonstrate financial need after all grant and scholarship awards are used to pay for tuition and fees. Books are not covered. It is not a loan and does not have to be paid back.
Refunds
There are strict guidelines for receiving disbursements and refunds. Student financial aid accounts may be accessed via myLoneStar.
Tax Information
Each January, eligible students will be sent a 1098-T form. The 1098-T is a record of the information that Lone Star College has reported to the IRS on a student's behalf. The 1098-T form is provided as required by the IRS to eligible students in late January to help them determine if they qualify for an American Opportunity Tax Credit or a Lifetime Learning Credit.
General tax information for students and FAQs can be found here.
Net Price Calculator
Our Net Price Calculator is a tool that students can use to estimate their "net price" of attending Lone Star College. Your "net price" of attending college is the total of your tuition, fees, books and supplies minus any scholarships and grants you might be eligible for.
How We Compare
| | |
| --- | --- |
| Lone Star College | $776 |
| University of Texas | $4,673 |
| Texas A&M | $4,575 |
| University of Houston | $4,237 |
| Stephen F. Austin | $3,858 |
| Sam Houston State | $3,881 |
Meningitis Requirement
Senate Bill 1107 amends current Texas law requiring proof of Bacterial Meningitis vaccination 10 days before attending classes.
Financial Aid Students - Financial Aid may be available to those who qualify and need assistance funding meningitis vaccination costs. Visit the Financial Aid Office on your campus for more information.
Financial Aid Contact Center (FACC)
Online
Submit a Financial Aid Question
Phone
281.290.2700
Hours
Mon-Thurs: 7:30 a.m. - 7 p.m.
Fri: 7:30 a.m. - 5 p.m.
Sat - Sun: Closed