Registration
Easy as 1 - 2 - 3
We want you to succeed! If you're a new student, your first step is to apply for admission. Otherwise, let's get started.

Lone Star College offers lots of degrees and certificates to choose from. Find the one that's best for you and get started.

Make a Plan: Plan your classes
Once you've identified your program of study, print your degree plan and use it as your guide when registering for classes.

Registration Hours
Lone Star College will have reduced hours from Dec. 22 - Jan. 5. View the reduced hours of operation.
*Students must sign in 30 minutes before closing to see an advisor.
Meningitis Requirement
Senate Bill 1107 amends current Texas law requiring proof of Bacterial Meningitis vaccination 10 days before attending classes.
Find more information about the new meningitis requirement
Payment and Refund Changes
All refunds will be deposited electronically or applied back to a credit card. If you do not have a bank account and direct deposit set up, your refund will be delayed up to 2 weeks
Payment plans will no longer accept cash. Second and third installment payments will be auto-deducted from your bank account or credit card
You can still pay online with electronic check or credit card
You can still pay at the business office window with cash, check, or debit card
Payments
Refunds - refunds will be made electronically via direct deposit or back to your credit card.
Payment plan - Auto-deducted (scheduled) payments are no longer optional. Anyone who signs up for a payment plan will have the 2nd and 3rd installments automatically deducted from their accounts.
eBills - you will receive an email telling you that your bill is ready to be viewed and you should go online to review and pay. We will be able to print your eBill if necessary. More about payments
Dual Credit Students
High school students who wish to apply and register for dual credit classes must meet necessary student eligibility requirements before attending Lone Star College. Visit our Dual Credit Website to get started.
Dual Credit Registration Deadlines
Summer I: May 30
Summer II: July 9
Fall: June 6
Need Technical assistance? Contact the Lone Star College Service Desk.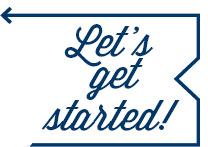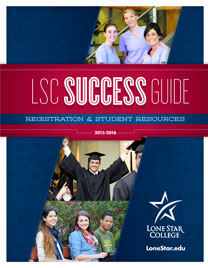 Download the LSC Success Guide
for help with registration
Registration Dates
Spring 2015
November 17
Registration Begins
December 15
Last Day for Dual Credit Registration for Spring Classes
January 6
Full payment due for pre-registered Spring Classes
January 12
Weekday Classes Begin
January 16, 17, 18
Friday Evening, Saturday & Sunday Classes Begin
January 19
MLK Holiday
April 2
Last Day to Drop and Receive a "W"