Gaven Krase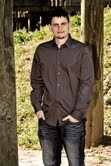 Title: Professor of Strings
Education:
BM Music Performance, Sam Houston State University
MM Music Performance, The New School Mannes Conservatory
Email: gjkbass@gmail.com 
Professional: 
Gaven Krase, a native Houstonian, began playing cello at 12 years old and bass shortly after. He received his Bachelor's Degree in Music Performance from Sam Houston State University on Double Bass. He then completed his Master's Degree in Music Performance from The New School Mannes Conservatory in New York City. Gaven has performed in famous venues such as Carnegie Hall, Lincoln Center, and Weill Recital Hall. His teachers include Dennis Whittaker, Deborah Dunham, and Marji Danilow, Eric Gronfer, and Sandor Ostlund. Gaven is the principal bassist of the Brazos Valley Symphony Orchestra and has played in the bass section with the Mid Texas Symphony. He was also principal bass of the New York Academic Festival Orchestra in 2010.
After graduating with his masters, Gaven moved back to Houston to perform and teach. He has taught several bass clinics around Houston and has been teaching cello and bass privately for 3 years.
Gaven loves performing chamber music and preparing recitals. When he isn't playing classical music, he is also active in the local music scene, playing in Blues and rock bands since high school. He has played with Rich Delgroso, Big Walter, and Sharon Isbin, among many others.