Leadership High School
What is Leadership High School?
Leadership High School (LHS) is a leadership development and diversity awareness

program for outstanding high school leaders in the Lone Star College System Service Area.  The program is offered at no cost to the participant.  
The community-based program, sponsored by Leadership North Houston, Leadership Montgomery County and the Lone Star College System, offers high school juniors the opportunity to become better informed of the critical issues affecting the community where they live and work.  The program also provides a unique opportunity to help prepare area youth for responsible citizenship while they develop crucial leadership skills. 
---
 Leadership High School-North Houston began in 1999 as an off shoot of LNH.  In 2006, Leadership High School-Montgomery County began with the assistance of LSC-Montgomery and Leadership Montgomery County. Leadership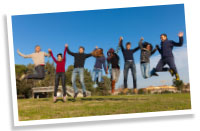 High School-Northwest came on board in the fall of 2011 to meet the growth in the North Houston area. There is a combined total of over 500 graduates.
The curriculum includes a leadership skills component as well as the opportunity to hear from leaders in our community regarding the needs of the community and how students can make a difference.  The program begins in October with an orientation session followed by a leadership skills retreat and continues with monthly sessions through April.  The sessions focus on topics such as education, local and state government, criminal justice, health and human services, cultural diversity and the arts and more.
The program goals are:
Develop a fundamental understanding of leadership and the skills manifested in effective leaders
Identify personal leadership style and ability
Increase understanding of leader's role in the local community
Learn how to initiate change in the community
Make new acquaintances from the North Houston Region
Understand the need for positive student leaders in the community
Make personal community service contributions