Research Databases: Education & Careers
For off-campus access, enter your fourteen digit library barcode number located on the back of your college ID/ library card. No college ID or library card? Request a college ID or library card barcode number.
Most Useful: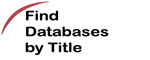 Academic Search Complete
(EBSCO) Articles from journals, magazines, newspapers on a variety of topics.
Chronicle of Higher Education Online (LSCS Libraries)

Access will end Sept. 1, 2016.


(CHE) Published Monday-Friday online, this title features the latest news related to colleges and universities, employment listings, and searchable archives to September 1989.
See also: Community College News Section
ERIC
(EBSCO) Full text of more than 2,200 digests along selected articles and abstracts from 1,000+ education-related journals.
Films on Demand (LSCS Libraries)
(Films Media Group) High-quality, educational streaming video from companies such as Films for the Humanities, BBC, and PBS.
JSTOR (LSCS Libraries)
(Mellon Foundation) Includes full-text back issues of selected peer-reviewed journals in such areas as history, statistics, sociology, literature, and economics.
LearningExpress Library 3.0 (LSCS Libraries)
(Learning Express) Test preparation using practice tests based on official exams. Provides instant feedback on answers to questions. Set up an account to save practice tests or review materials. Includes Job & Career Accelerator.
Professional Development Collection
(EBSCO) Designed for educators and librarians, this database includes 548 full-text education journals and over 200 educational reports.
Statistical Abstract of the U.S.(Online Edition) (LSCS Libraries)
(ProQuest) Help
Comprehensive summary of statistics about the United States population, industries and more. Browse broad subject categories or search to locate statistics or use as a guide to more information in print and on the internet. Sources include the United States government, as well as commercial publishers.

Also Try:

TexShare databases are funded in part by the Texas State Library and Archives Commission.