Research Databases: Education & Careers
For off-campus access, enter your fourteen digit library barcode number located on the back of your college ID/ library card. No college ID or library card? Request a college ID or library card barcode number.
Most Useful: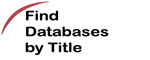 Academic Search Complete
(EBSCO) Articles from journals, magazines, newspapers on a variety of topics.
Academic Video Online: Premium
(Alexander Street Press) Full-length videos on various topics, documentaries, instructional materials and limited historical news reports.
Chronicle of Higher Education Online (LSCS Libraries)
(EBSCO) Features the latest news related to colleges and universities and includes employment listings for higher education. Full-text from 1999. Most current month unavailable. Note: Access is also available through http://www.chronicle.com/. Articles not marked as premium content are accessible.
ERIC
(EBSCO) Full text of more than 2,200 digests along selected articles and abstracts from 1,000+ education-related journals.
Films on Demand (LSCS Libraries)
(Films Media Group) High-quality, educational streaming video from companies such as Films for the Humanities, BBC, and PBS.
JSTOR (LSCS Libraries)
(Mellon Foundation) Includes full-text back issues of selected peer-reviewed journals in such areas as history, statistics, sociology, literature, and economics.
LearningExpress Library 3.0 (LSCS Libraries)
(Learning Express) Test preparation using practice tests based on official exams. Provides instant feedback on answers to questions. Set up an account to save practice tests or review materials. Includes Job & Career Accelerator.
Professional Development Collection
(EBSCO) Designed for educators and librarians, this database includes 548 full-text education journals and over 200 educational reports.
Statistical Abstract of the U.S.(Online Edition) (LSCS Libraries)
(ProQuest) Help
Comprehensive summary of statistics about the United States population, industries and more. Browse broad subject categories or search to locate statistics or use as a guide to more information in print and on the internet. Sources include the United States government, as well as commercial publishers.

Also Try:

AtoZ Databases (LSC-North Harris)
(AtoZdatabases) Business and residential profiles including various facets such as geographic area, type, size, ownership, income, and interests.
Credo Reference
(Credo) Includes materials from over 650 reference books on a variety of topics in higher education, including art, business, history, languages, literature, science, criminal justice, and political science.
EBSCO eBook Collection - formerly NetLibrary
(EBSCO) Search complete electronic books. Set up a free account and download to your PC, Mac, Nook, Sony, Android, iPhone, or iPad.
Education Adminstration Abstracts
(EBSCO) Locate bibliographic records for articles related to educational administration, including educational leadership, educational management, educational research and other areas of key relevance to the discipline, with coverage back to 46 years. No full-text, but search the publication title in LSCS Libraries' A-Z database to check availability online or in one of the libraries' collections.
ERIC - free web
(U.S. Department of Education) Summaries and/or full-text of education-related reports.
Job & Career Accelerator (LSCS Libraries)
(LearningExpress) Provides help with matching skills to a career, current job listings, and cover letter and resume preparation. Requires free login so you can save work online. If you are unable to register off campus, please try again using an on-campus computer.
Library, Information Science & Technology Abstracts
(EBSCO) "Indexes 600+ periodicals, plus books, research reports and proceedings on classification, cataloging, bibliometrics, online information retrieval, information management and more" from the mid-1960s to the present. Contains some full text.
Mango Languages (LSC-CyFair, LSC-Tomball, & HCPL)
(NOTE: This link will refer you to the HCPL page where you will see the Mango Languages link and select it.)
(Mango Languages) Spanish, Japanese, French, German, Mandarin Chinese, and ESL are currently available with more to come later. Available at home or library, users may create their own account to chart progress in learning a language or just jump right in by clicking link under the login that says, "Skip Login Start Learning Now!"
New Directions for Community Colleges (LSC-Tomball)
(Wiley Online Library) Expert guidance for administrators and leaders in open-door educational institutions. If you have a LSCS barcode number from another campus, browse or search issues from 1997 to date in Academic Search Complete or the Professional Development Collection; full-text for articles within the current year may be requested through interlibrary loan.
Occupational Outlook Handbook - free web
(Bureau of Labor Statistics) Find information on hundreds of jobs such as earnings, working conditions, job prospects, training, education, and more.
Teacher Reference Center
(EBSCO) Features listings and summaries (abstracts) for 280+ popular education trade journals with full-text links to articles available in Academic Search Premier.
Teaching Professor
(Magna) Informative newsletter that provides ideas and insight to educators who are passionate about teaching. Note: Faculty are encouraged to sign up to automatically receive an email reminder for each new issue. Click here for more information.
Vocational & Career Collection
(EBSCO) Full text coverage for more than 350 trade and industry-related periodicals.

TexShare databases are funded in part by the Texas State Library and Archives Commission.
Save
Save
Save
Save
Save
Save