Friends of the Library - Who We Are - LSC-CyFair
Meet our board members and learn about our mission.The Lone Star College-CyFair Branch Friends of the Library promote an interest in the Harris County Public Library, Lone Star College-CyFair Branch among alumni and public; to provide a fuller understanding of the role of the library in education; to encourage gifts and bequests in support of the Library; and to assist the Harris County Public Library, Lone Star College-CyFair Branch in its educational mission through exhibits, programs, publications, and other means.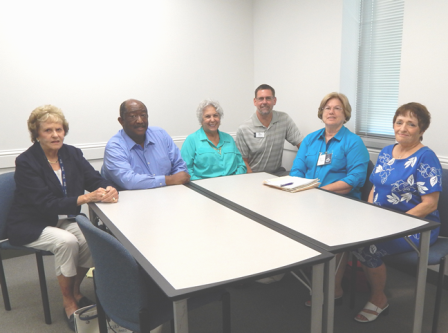 Board Members
Volunteer Members
Lone Star College-
CyFair Members
Harris County Public Library,
Lone Star College-CyFair
Ex-Officio Members
Joan Everson - Chair
Glenn Edwards
Mick Stafford
Roxanne Beck
Susan Green
Beverly Choate
Claire Gunnels
Ulysses Fogg
Monica Norem
Lorraine Kram – Emeritus (Deceased)
Elsie Markuson
Joan van Pelt
O.J. Whipple
Marianna Wood
Become a Member
Select a membership level and complete a fillable PDF
membership application
and print a copy to return it to the library in person or by mail. More details are listed on the form. Thank you for your support of the library!
Friends' Members Receive:
?
10% discount in the College bookstore with your membership card (excludes textbooks and software).
Free admission to Lone Star College-CyFair Arts performances excluding co-productions and Windows on the World (WOW) sponsored productions.

2 complementary tickets for individual memberships.

A book bag or stylus penlight.
A 50% off coupon to be used for a Friends Bookstore purchase during the membership year and invitations to other special membership-only sales events.
Invitation to the Friends general membership meeting in October.
Library Volunteer Opportunities:
Friends bookstore staffing
Shelving and other special library projects
Contact the Friends: fol.lsc.cyfair@gmail.com
The LSC-CyFair Branch Friends of the Library operate under the auspices of the Lone Star College Foundation, a 501(c)(3) non-profit corporation.