Voces Americanas:Latino Literature in the United States - LSC-Kingwood Library
September 25 - October 16, 2013
About the Exhibit | Library Hours | Contact | Exhibit Coordinator | Other Hispanic Heritage Month Events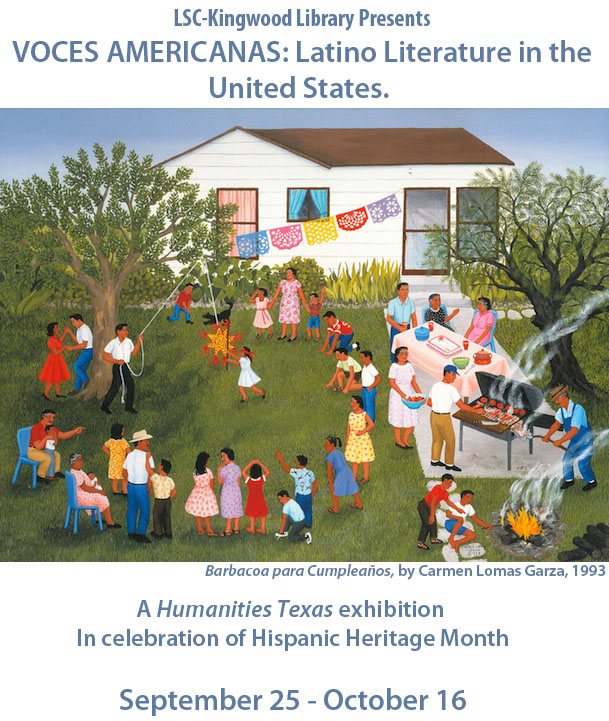 Celebrate poetry, prose, and drama by Latino authors of the past thirty years. Based on an orginal exhibit from the University of Houston Library, panels provided by Humanities Texas, the state affiliate of the National Endowment for the Humanities, explore:
Literary Renaissance
Historic publications
Children's books
Books for teens
Prizes and honors
The Chicano Movement
Tejano writers
Southern Californians
East Coast writers
San Francisco literary boom
Central California writers
New Mexicans
Cuban-Americans
Theatre
New directions
Find out more about this and other exhibitions offered by Humanities Texas at http://www.humanitiestexas.org/exhibitions.
Also see links from our Pinterest board!
Monday - Thursday 7 a.m. - 9 p.m.
Friday 7 a.m. - 4:30 p.m.
Saturday 9 a.m. - 2 p.m.
281.312.1698 (Reference Desk)
Alison Huffy
281.312.1691
Email: Ruth.A.Huffy@LoneStar.edu
Intercultural Ice Cream Social
August 27, 2013
12 pm-1:30 pm
SCC Patio
Women's Chat
September 10, 2013
12:30 pm
LIB 204
Hispanic Heritage Month Festival
September 26, 2013
11:00am-1:30 pm
HSB Patio
Changing Roles of Women in Latina Society" Panel discussion
October 1, 2013
12:30 pm
SCC Conference Center
Who am I? Dialogue Series with Dr. John Theis
October 3, 2013
12:30 pm
PAC 116B
Latino Leadership Summit (High Schools Students Only)
October 4, 2013
8:30am-1:30 pm
SCC Conference Center
Hispanic Heritage Month Speaker
October 14, 2013
7:00 pm
SCC Conference Center
Upcoming events from the LSC-Kingwood Intercultural Center
September, 2013: JFR