Mobile Go Center
Welcome to the Mobile Go Center!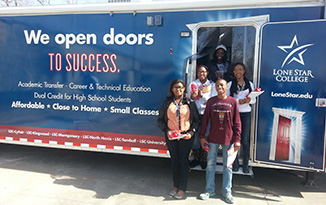 Mobile Go Centers are an extension of the College for Texans Campaign to support "Closing the Gaps by 2015". This is accomplished by providing information on how to apply and pay for college within the Lone Star College service area.
The 42 ft. trailer is fitted with air conditioning, two plasma TV's, 26 laptops, a printer and has high speed internet.
It stops at schools, community centers, churches and other locations upon request.
Calendar
To schedule a site visit, please view the above Calendar for openings. To submit a request, please click on the following link-  Request Form .
If you have any questions please feel free to contact us at:
Front Desk - (281) 290-2770 
LSCMobileGo@Lonestar.edu