LSC-Montgomery Winter 2016-17 Mini-Mester
The following is helpful information for enrolling in the Winter 2016-17 Mini-Term.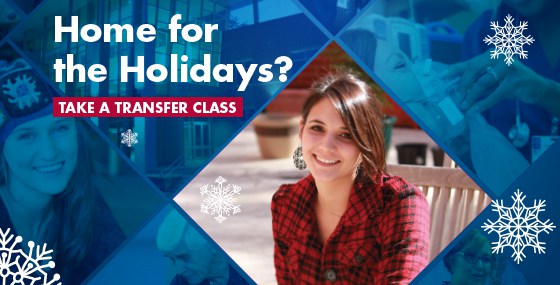 Registration opened Monday, November 14, 2016.
Admissions – Applying to Lone Star College
All students applying for the Winter Mini-Term must follow Lone Star College admissions guidelines.
more info »
Academic Advisement
Lone Star College-Montgomery encourages all students to participate in academic advisement throughout their tenure here. The Academic Advisement process includes meeting with a counselor or advisor to choose courses and make appropriate decisions concerning students' academic goals.
more info »
The Counseling Services team is available year-round to assist students who may be in need of academic, career and personal counseling.
more info »
Registration
View the detailed registration schedule on our Academic Calendar.
Dates
Registration begins November 14, 2016
Classes begin December 19, 2016
Last day to register/pay is December 9, 2016
Winter Mini-Term 2016
Dates
Classes Meet
November 14
Registration begins
December 9
Last day to register/pay
December 19
Class
Dec. 25 & Jan. 1

Winter Holidays for Mini-Term
Class Schedules
Courses offered at LSC-Montgomery

Title
Section

Class Number

Art Appreciation

ARTS

1301

4901

Art Appreciation

ARTS

1301

4902

Theatre Appreciation

DRAM

1310

4801

Police Systems
CRIJ

2328
4801
Comp & Rhetoric II
ENGL
1302
4802
British Lit: Romantic-Present
ENGL
2323
4801
College Algebra

MATH

1314

4901

Trigonometry

MATH

1316

4901

Calculus for Business

MATH

1325

4901

Statistics

MATH

1342

4901

Statistics

MATH

1342

4902

Prin of Sociology
SOCI
1301
4801
Student Load and Overload
A student may take only one course during the Mini-Term. An overload during any term must be approved by the academic vice president or designee.
Tuition
Payment for the Mini-Term tuition and fees is due in FULL by December 9, 2015. These classes are NOT eligible for a payment plan.
Payment plans must be obtained through myLoneStar and are available prior to the payment deadline for registration. Visit LoneStar.edu/payment-plan for information relating to the payment plan offered.
Visit the
Tuition and Fees
page for payment information.
Things to know for using your Financial Aid for Mini-Term:
You must have a completed 2016-2017 financial aid file and have established eligibility.
The Winter Mini-Term is part of the Spring 2017 term.
Book advances are not available during the Mini-Term. Student will be responsible to purchase their own books and supplies.
Transient students will not be eligible for Mini-Term aid.
You must be making satisfactory academic progress. Click here to view the written standards.
For more detailed information regarding financial aid processes please refer to our link. http://lonestar.edu/financial-aid.htm