Academic Departments
|
LSCS Drama Departments
|
LSC-Montgomery Drama Department

Lone Star College-Montgomery Drama Department
The Lone Star College-Montgomery Drama department provides a professional training experience for all students within the disciplines of acting, design and technology, and theatrical studies.
We stress that theatre is a collaborative art form with equal importance given to all roles - on stage and off. Students are encouraged to participate fully in all aspects of theatre production.
Actors Workshop
The Lone Star College-Montgomery drama department and Delta Psi Omega, National Theatre Honor Society, are kick-starting off their spring semester with the Actors Workshop, playing from February 20 to 22 at 7:00 p.m. in the Black Box Theatre (D204) in Building D. The Actors Workshop will feature a variety of scenes and monologues that are student produced, and two short plays from All in the Timing, which is a collection of plays by American playwright David Ives. The two plays will be Sure Thing and The Philadelphia. For more information, please click here.
Please be advised that the Actors Workshop contains adult language and adult situation. This show is rated R. Parental discretion is advised.
KCACTF Exceptional Success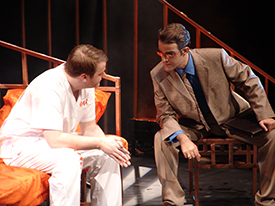 On October 24 to 26, the Drama department participated in the Kennedy Center American College Texas State Festival that was hosted by Angelo State University. LSC-Montgomery was one of five schools in attendance that included Grayson College, Tarrant County College-SE, Angelo State University and Sul Ross State University.

Faculty members Chase Waites, Tim Campbell, Rob Kreps, and Liz Lacy travelled with a dozen students to the festival to see plays, attend workshops and present the original play, Place of the Skull written by LSC-Montgomery alum Christopher Young. The production, LSC-Montgomery Drama and L.E.T. students and faculty received several Meritorious Achievement citations including the honor of having the production held for consideration for the Region 6 festival hosted in Shreveport in February.

Meritorious Achievement awards were as follows:
Region Committee's Choice: Place of the Skull
Directing: Tim Campbell
Lighting and Sound design: Rob Kreps
Best Load In/Load Out (The Golden Wrench Award): Place of the Skull
Honor Crew Participation: Kyle Casburn
Outstanding Honor Crew Member: Kyle Casburn
Playwriting: Christopher Young
Support of Original Works: LSC-Montgomery Drama department
Outstanding Work on Properties Crew: Autumn Packard
Irene Ryan Acting Scholarship nominations went to Mackenzie Haffey, Ana Ramirez-Morales, and Sarah Saflin.
Lone Star College-Montgomery was exceptionally well represented. Special thanks to the LSC-Montgomery Administration for the continued support of the Drama Department and these invaluable student travel opportunities.
Experience the Magic on Stage!
Want to know how to experience the Magic on Stage? Capture the magic with season tickts to the 2013-2014 theatre season! We have something for everyone: horror for the teens, a classic for the adults, and a childhood favorite returning to the stage! Season ticket packages come with:
3 Mainstage Shows
2 Black Box performances
Priority seating
Name recognition in programs
All proceeds will benefit scholarships!
Ordr your season tickets online here. You can also contact for more information at (936) 273-7021.
Organizational Affiliations