LSC-Montgomery Drama Department

Lone Star College-Montgomery Drama Department
The Lone Star College-Montgomery Drama department provides a professional training experience for all students within the disciplines of acting, design and technology, and theatrical studies.
We stress that theatre is a collaborative art form with equal importance given to all roles - on stage and off. Students are encouraged to participate fully in all aspects of theatre production.
The 2017-2018 Season
The Rise and Rise of Daniel Rocket
by Peter Parnell directed by Chase Waites

As the play begins the protagonists are twelve-year-old sixth graders. One of them, Daniel Rocket, is firmly convinced that he can fly, a belief that causes him to be shunned and ridiculed by his schoolmates—including the girl he adores and for whose regard he is driven to prove himself. Oddly enough, however, it turns out that Daniel can fly, although, initially he does so in secret.

Performances: November 15-18 at 7 p.m., November 18 at 3 p.m.
Location: Performing Arts Center (Bldg. D), Mainstage Theatre

---

Irene Ryan Scenes

The Irene Ryan scenes are for students who were nominated for the Irene Ryan Acting Award. Productions entered in the Kennedy Center American College Theatre Festival allow for 3 students per production to be nominated for this award. Students perform the scenes for an audience at LSC-Montgomery as a warm up for their actual audition at the Region 6 Kennedy Center American College Theatre Festival in San Angelo at Angelo State University.

Performances: February 22-24 at 7 p.m., February 24 at 3 p.m.

---

The Rocky Horror Show

One fateful night, Brad Majors and his fiancée, Janet Weiss — a wholesome, well-behaved, utterly normal young couple in love — innocently set out to visit an old professor. Unfortunately for them, this night out is destined to be one they will never forget.
Read more»

Auditions: February 7 at 4 p.m.
Location: Performing Arts Center (Bldg. D), Mainstage Theatre

Performances: April 18 • 5:30 p.m., 19-21 • 7 p.m., 21 • 3 p.m.
Location: Performing Arts Center (Bldg. D), Mainstage Theatre

---

1984

Winston Smith, living under the totalitarian rule of the Party, has the idea of writing a diary. It is a crime punishable by death and there is no way of knowing if he is being watched. He imagines two futures—in one, a future readership in a free society think of him as a hero; in the other he is caught, executed and forgotten. Perhaps both things are true. That day, during the obligatory "Two Minutes Hate," he wondered who else might be harboring thoughts of rebellion, and who may be working for the Thought Police. Winston starts the diary. He writes the year, so far as he knows it: 1984.

Performances: July 5-7 at 7 p.m., July 7 at 3 p.m.
Location: Live Entertainment Technology Building
Season Tickets
Want to know how to experience the Magic on Stage? Capture the magic with season tickets to the 2017-2018 theatre season! We have something for everyone! Season ticket packages come with:
3 Mainstage Shows
2 Black Box performances
Priority seating
Name recognition in programs
All proceeds will benefit scholarships!
Scholarship Opportunities
Lone Star College–Montgomery Theatre offers a variety of scholarships for students in drama. If you are aspiring to be an actor or want to work behind the scenes, then check out the following guidelines for your scholarship opportunity.
Do you want to act in the play?
The Vagina Monologues- Auditions are January 19 at 4 p.m. at LSC-Montgomery Mainstage Theatre, D100 and will consist of a cold read.
Green Day's American Idiot- Auditions are February 2 at 4 p.m. and open to the public. Prepare 16-20 bars from a rock musical or from a popular rock tune. Please bring sheet music and wear clothing that allows for movement. Rehearsals begin March 20 and are from 4-7 p.m., Monday-Friday. Contact Chase Waites at chase@lonestar.edu for information.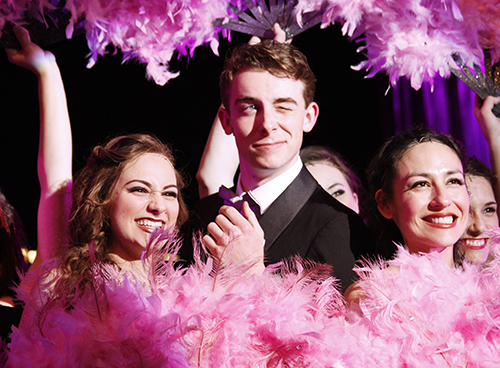 Video Production for LET
Learn about everything behind-the-scenes in our Video Production for Live Entertainment Technology courses! For more information, please contact Chase Waites at Chase.Waites@lonestar.edu.
Video Production for Live Entertainment Technology
Lighting for Film and Video
FLMC 1304
TV Field Production
RTVB 1321
Audio Post Production
FLMC 2330
Scriptwriting
RTVB 1429
Organizational Affiliations