LSC-Montgomery Drama Department
Lone Star College-Montgomery Drama Department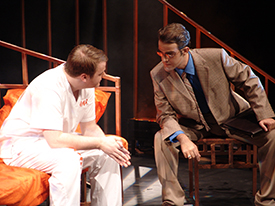 The Lone Star College-Montgomery Drama department provides a professional training experience for all students within the disciplines of acting, design and technology, and theatrical studies.
We stress that theatre is a collaborative art form with equal importance given to all roles - on stage and off. Students are encouraged to participate fully in all aspects of theatre production.

Coming Soon
Chicago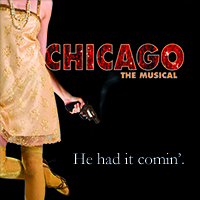 And All That Jazz! The LSC-Montgomery Performing Arts will present Chicago, the Musical on April 23 to 25, 2015. This classic musical is set in the roaring twenties with chorine Roxie Hart, who murders a faithless lover and convinces her hapless husband Amos to take the rap... until he finds out he's been duped and turns on Roxie. Convicted and sent to death row, Roxie and another 'Merry Murderess" Velma Kelly, vie for the spotlight and the headlines, ultimately joining forces in search of the "American Dream": fame, fortune, and acquittal. This sharp edged satire features a dazzling score that sparked immortal staging by Bob Fosse (PG-13, some adult-themes). 
Preview performance is on April 22 with a special preview reception beginning at 4:30 p.m. and performance beginning 5:30 p.m. Regular performances are at 7 p.m. in the evening and a matinee performance at 3 p.m. on Saturday. For additional information, please contact MontgomeryFineArts@LoneStar.edu or call 936.273.7021.

KCACTF Success
February 24 to March 1 - Faculty members Tim Campbell, Rob Kreps, and Chase Waites travelled with 11 drama and LET students to San Angelo for the Region 6 Kennedy Center American College Theatre Festival. This festival is comprised of 800 students and faculty from region 6 which includes Texas, Louisiana, New Mexico, Missouri, Oklahoma, and Arkansas. The festival offers professional and educational development workshops for faculty and students, invited productions and scenes from the region, technical theatre exhibits, scholarship competitions and transfer opportunities.
LSC-Montgomery Drama participated in the evening of invited scenes, the Irene Ryan Acting Scholarship completion, Design/Technology/Management exhibition and festival Honor Crew. Highlights of the festival include an award for Sam Daigle for Best Partner in the preliminary round of the Irene Ryans. Sam was the one student chosen from 170 for this honor. Irene Ryan nominee Sarah Saflin advanced to the semi-final round of the Irene Ryans. She was part of a group of 32 that advanced to this round from the preliminary round. And Saxon Rhoad was one of the two students chosen as Outstanding Honor Crew. We are so proud of all of our students' participation and success.
Rob Kreps serves on the Region 6 committee as Vice Chair of Design/Technology/Management. Chase Waites serves as the Region 6 Vice-Chair.
Thank you for the continued support of these programs which provide invaluable learning, scholarship, and transfer opportunities for our students.
Experience the Magic on Stage!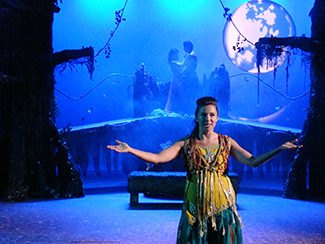 Want to know how to experience the Magic on Stage? Capture the magic with season tickets to the 2014-2015 theatre season! We have something for everyone: drama for the teens, a classic for the adults, and a modern love story! Season ticket packages come with:
3 Mainstage Shows
2 Black Box performances
Priority seating
Name recognition in programs
All proceeds will benefit scholarships!
Order your season tickets by calling (936) 273-7021 or email mailto:MontgomeryFineArts@LoneStar.edu?Subject=Drama%20Season%20Tickets for more information.
Organizational Affiliations