LSC-Montgomery Drama Department

Lone Star College-Montgomery Drama Department
The Lone Star College-Montgomery Drama department provides a professional training experience for all students within the disciplines of acting, design and technology, and theatrical studies.
We stress that theatre is a collaborative art form with equal importance given to all roles - on stage and off. Students are encouraged to participate fully in all aspects of theatre production.
Join us this Fall!
The Birds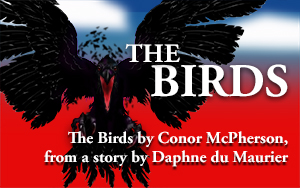 Daphne du Maurier's short story, also the basis for Alfred Hitchcock's classic film, is boldly adapted by Conor McPherson—a gripping, unsettling, and moving look at human relationships in the face of societal collapse. In an isolated house, strangers Nat and Diane take shelter from relentless masses of attacking birds. They find relative sanctuary but not comfort or peace; there's no electricity, little food, and a nearby neighbor may still be alive and watching them. Another refugee, the young and attractive Julia, arrives with some news of the outside world, but her presence also brings discord. Their survival becomes even more doubtful when paranoia takes hold of the makeshift fortress—an internal threat to match that of the birds outside. Rated R for Adult Language
Preview: November 16 at 5:30 p.m.
Performances: November 17 to 19 at 7 p.m., November 19 at 3 p.m.
Coming this Spring!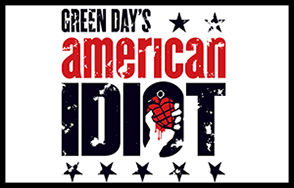 Green Day's American Idiot
The two-time Tony Award-winning hit musical Green Day's American Idiot, based on the Grammy Award-winning multi-platinum album, boldly takes the American musical where it's never gone before. This high-octane show includes every song from Green Day's album, American Idiot, as well as several songs from its follow-up release, 21st Century Breakdown.
Johnny, Tunny and Will struggle to find meaning in a post-9/11 world with unexpected results.  An energy-fueled rock opera, American Idiot is a high-concept show with strong messages about life's twists and turns. Rated R for adult language and adult situations.
Do you want to act in the play?
Auditions are February 2 at 4 p.m. and open to the public. Prepare 16-20 bars from a rock musical or from a popular rock tune. Please bring sheet music and wear clothing that allows for movement. Rehearsals begin March 20 and are from 4-7 Monday-Friday. Contact Chase Waites at chase@lonestar.edu for information.
Preview: 
April 25 at 5:30
(Free preview for all LSC-Montgomery students, faculty and staff)
. 
Performances:
April 27-29 at 7 p.m. and April 29 at 3 p.m.
Video Production for LET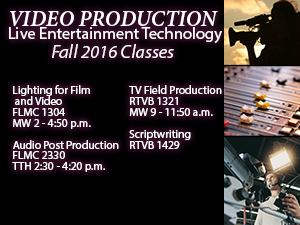 Learn about everything behind-the-scenes in our Video Production for Live Entertainment Technology courses! For more information, please contact Chase Waites at Chase.Waites@lonestar.edu
Experience the Magic on Stage!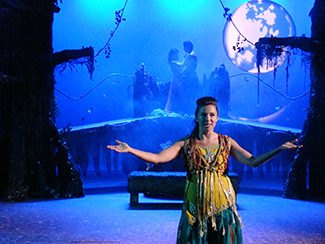 Want to know how to experience the Magic on Stage? Capture the magic with season tickets to the 2015-2016 theatre season! We have something for everyone: drama for the teens, a classic for the adults, and a modern love story! Season ticket packages come with:
3 Mainstage Shows
2 Black Box performances
Priority seating
Name recognition in programs
All proceeds will benefit scholarships!
Order your season tickets by calling 936.273.7021 or email MontgomeryFineArts@LoneStar.edu for more information.
Organizational Affiliations