LSC-Tomball Dual Credit Center
Overview
Dual Credit is an opportunity for high school students to earn high school and college credit simultaneously. Students demonstrating college readiness through a college placement exam can earn college and high school credits in the same course by attending classes at their high school, on a Lone Star campus, and/or online. We partner with independent school districts, charter schools, private schools, and homeschool parents to offer courses in the core curriculum, foreign languages, and workforce education.
Get Ahead with the CORE this Summer!
It's not too late to register for Summer 2019! You can take 1 or 2 classes this summer that will go toward becoming Core Complete. We have created a list of Core courses that you can take this summer! Click on the document below, and click on the dates that you are able to take summer classes. From there, you will see a list of core classes offered during that session. You will even see how many credit hours that class counts toward core component areas. Make a list of any summer classes you may want to take, and bring that list with you when you register for Fall 2019. Students who register for summer 2019 will win their very own AIP sunglasses to prepare them for that warm summer sun!
If you attend one of our public high schools, please talk with your high school counselor about the classes you may want to take. Your counselor will be able to tell you if you can take the class as a dual credit class or if you will have to take it as a college credit only class.
Click here to review the list of CORE summer classes offered at LSC-Tomball!
Dual Credit Testing Days
We have specific days for prospective and current dual credit students to take the TSI in order to qualify for dual credit courses. To register for one of the testing dates, click here or on the flyer below.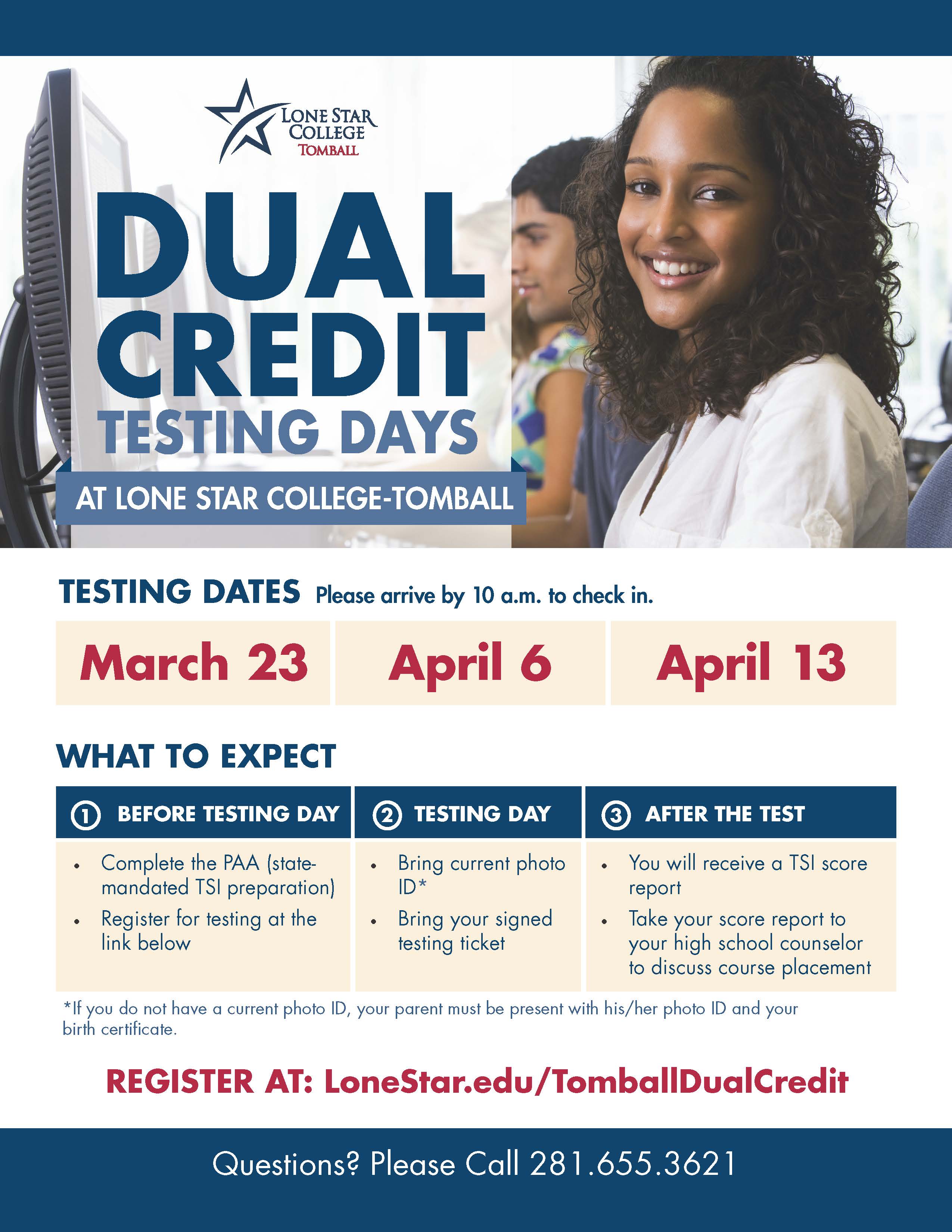 For more information about dual credit testing, visit our testing center.
Advantages of Dual Credit

Dual Credit Students
To find information and resources, select the type of dual credit student you are.
Early College High School Students
To learn more about LSC-Tomball's Early College High Schools, click on the links below.
Dual Credit Registration
Registration for Fall 2019 courses begins on Tuesday, April 4, 2019. Be prepared by reviewing our Dual Credit Exchange Newsletter!