LSC-Tomball Dual Credit Center
Overview
Dual Credit is an opportunity for high school students to earn high school and college credit simultaneously. Students demonstrating college readiness through a college placement exam can earn college and high school credits in the same course by attending classes at their high school, on a Lone Star campus, and/or online. We partner with independent school districts, charter schools, private schools, and homeschool parents to offer courses in the core curriculum, foreign languages, and workforce education.
Dual Credit Students
Early College High Schools
Upcoming Events
Please check here for future updates about our dual credit program.
Testing Center Information
Check the LSC Testing Center pages for more information.
A Note To All Parents/Guardians:
FERPA
The Family Educational Rights and Privacy Act (FERPA), also known as the Buckley Amendment, was established to protect the privacy rights of all students and applies to any educational facility receiving federal funds.
The Act prevents the release of certain information held within student records. Information is provided within this site for individuals seeking student records and for staff seeking information on FERPA regulations and how to properly manage student records.
Any parent/guardian wishing to obtain a testing ticket for their student must bring a completed FERPA form at the time you wish to obtain a testing ticket for your student.
For more information regarding FERPA please visit http://www.lonestar.edu/ferpa.htm
For access to the required form please visit www.lonestar.edu/TomballDualCredit
Parental Consent Form
For more information click here. (If student is under the age of 18 years old)
Disability Services
http://www.lonestar.edu/disability-services.htm
Where can I get my Books
Dual Credit students are responsible for the fees and books portion of their Dual Credit courses. All tuition is waived.
Schedule Change & Withdrawals
Advantages of Dual Credit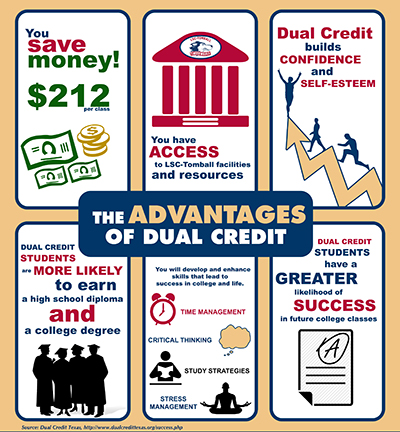 Dual Credit Registration
ISD, Charter, and Private Schools for Spring 2018:
December 20, 2017
Homeschool for Spring 2018:
December 20, 2017