LSC-Montgomery Drama Department
Lone Star College-Montgomery Drama Department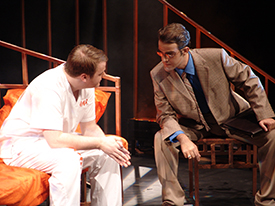 The Lone Star College-Montgomery Drama department provides a professional training experience for all students within the disciplines of acting, design and technology, and theatrical studies.
We stress that theatre is a collaborative art form with equal importance given to all roles - on stage and off. Students are encouraged to participate fully in all aspects of theatre production.

Join us for Dancescape, this Friday at 7 p.m.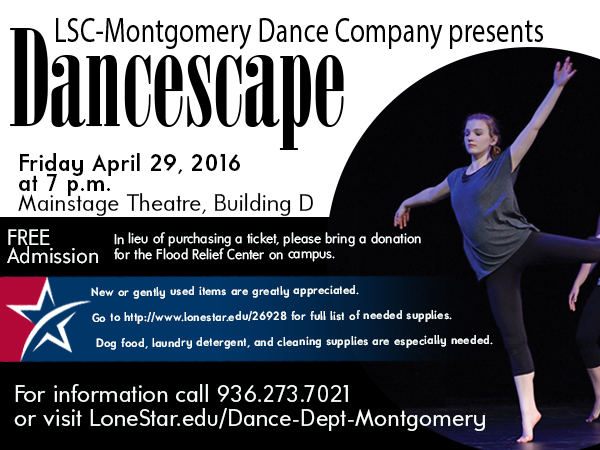 Our Spring semester presentation of Dancescape will be this Friday, April 29 at 7 p.m. Join us as our Dance Appreciation class performs pieces they have worked on throughout the semester, many of which are student-choreographed! In lieu of an admission fee, the dance department is asking for donations of goods to benefit our campus Flood Relief efforts. These items will benefit the students, faculty, and staff who were impacted by last week's flooding. A full list of supplies needed can be found
here
, and there is a great need for dog food, laundry detergent, and cleaning supplies. New or gently used items will be accepted, and a drop-off area will be located in the D building theatre lobby. For more information, call 936-273-7021 or email Lauren.E.Lazo@lonestar.edu. 
Audition for our Summer production Proof!
Auditions for our summer production of Proof will take place Tuesday, May 31 at 4:00 p.m. in the Mainstage Theatre, D 100. Callbacks will be held the following day on Wednesday, June 1 at 4:00 p.m. Proof will run July 6 - 9, 2016. 
Proof
is a straight play about a young woman, 
Catherine, who has inherited her late father's mathematical brilliance, but she is haunted by the fear that she might also share his debilitating mental illness. She has spent years caring for her now-deceased father, and upon his death, she feels left alone to pick up the pieces of her life without him. Caught between a new-found connection with Hal, one of her father's former students, and the reappearance of her sister, Claire, Catherine finds both her world and her mind growing increasingly unstable. Then Hal discovers a groundbreaking proof among the 103 notebooks Catherine's father left behind, and Catherine is forced to further question how much of her father's genius or madness will she inherit

For more information, please contact Chase Waites at Chase.Waites@lonestar.edu. 
Experience the Magic on Stage!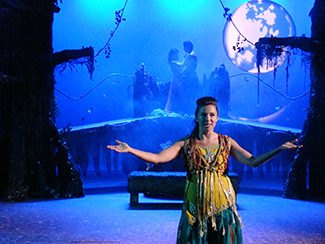 Want to know how to experience the Magic on Stage? Capture the magic with season tickets to the 2015-2016 theatre season! We have something for everyone: drama for the teens, a classic for the adults, and a modern love story! Season ticket packages come with:
3 Mainstage Shows
2 Black Box performances
Priority seating
Name recognition in programs
All proceeds will benefit scholarships!
Order your season tickets by calling 936.273.7021 or email MontgomeryFineArts@LoneStar.edu for more information.
Organizational Affiliations