LSC-Montgomery Drama Department
Lone Star College-Montgomery Drama Department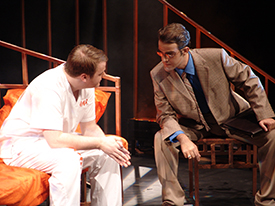 The Lone Star College-Montgomery Drama department provides a professional training experience for all students within the disciplines of acting, design and technology, and theatrical studies.
We stress that theatre is a collaborative art form with equal importance given to all roles - on stage and off. Students are encouraged to participate fully in all aspects of theatre production.

Audition Notice!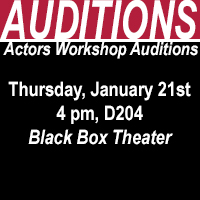 Audition for The Actors Workshop
Auditions for The Actors Workshop will take place Thursday, January 21st at 4pm in the Black Box Theater, room D 204. Auditions are open to the public. Please bring with you a prepared 1-2 minute monologue, as well as be ready for a cold reading from the script. Actors without a prepared monologue may read from the script. Those interested in crew and technical positions should also attend auditions. 
The Actors Workshop will run Thursday, February 18th through Saturday, February 20th. 
Audition for Into The Woods!
Auditions for our spring musical, Into The Woods, will take place on Wednesday, March 2nd at 4pm in the Theater, D 100. Callbacks will be Thursday, March 3rd at 4pm and if needed Friday, March 4th. Actors will need to prepare and memorize 16 bars from a Broadway show. Actors should bring their sheet music to the audition, and be prepared to learn a brief dance combination. Those interested in crew position should also attend. Auditions are open to all community members.
Into The Woods will run Wednesday, April 20th through Saturday, April 23rd, 
For more information please contact Chase Waites at Chase@lonestar.edu
KCACTF Success
February 24 to March 1 - Faculty members Tim Campbell, Rob Kreps, and Chase Waites travelled with 11 drama and LET students to San Angelo for the Region 6 Kennedy Center American College Theatre Festival. This festival is comprised of 800 students and faculty from region 6 which includes Texas, Louisiana, New Mexico, Missouri, Oklahoma, and Arkansas. The festival offers professional and educational development workshops for faculty and students, invited productions and scenes from the region, technical theatre exhibits, scholarship competitions and transfer opportunities.
LSC-Montgomery Drama participated in the evening of invited scenes, the Irene Ryan Acting Scholarship completion, Design/Technology/Management exhibition and festival Honor Crew. Highlights of the festival include an award for Sam Daigle for Best Partner in the preliminary round of the Irene Ryans. Sam was the one student chosen from 170 for this honor. Irene Ryan nominee Sarah Saflin advanced to the semi-final round of the Irene Ryans. She was part of a group of 32 that advanced to this round from the preliminary round. And Saxon Rhoad was one of the two students chosen as Outstanding Honor Crew. We are so proud of all of our students' participation and success.
Rob Kreps serves on the Region 6 committee as Vice Chair of Design/Technology/Management. Chase Waites serves as the Region 6 Vice-Chair.
Thank you for the continued support of these programs which provide invaluable learning, scholarship, and transfer opportunities for our students.
Experience the Magic on Stage!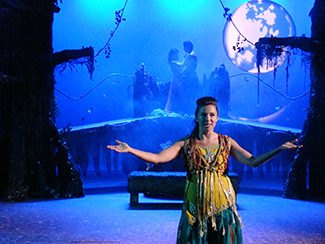 Want to know how to experience the Magic on Stage? Capture the magic with season tickets to the 2015-2016 theatre season! We have something for everyone: drama for the teens, a classic for the adults, and a modern love story! Season ticket packages come with:
3 Mainstage Shows
2 Black Box performances
Priority seating
Name recognition in programs
All proceeds will benefit scholarships!
Order your season tickets by calling 936.273.7021 or email MontgomeryFineArts@LoneStar.edu for more information.
Organizational Affiliations