LSC-CyFair Graduation
At the end of each semester, Lone Star College awards diplomas to students who complete their degree/certification requirements. We encourage all students to apply for graduation whether your goal is to transfer or to complete one of our academic programs.
Watch the LSC-CyFair Graduation 2016 live online!
Date and Location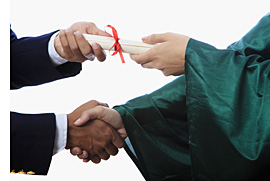 Berry Center
8877 Barker Cypress Rd
Cypress, TX 77433.
Saturday, May 14, 2016
9:00 a.m.
Graduates are expected to arrive at 7:30 am to ensure participation in the ceremony.
Graduation Reception
A reception for graduates and their families will be held Immediately following the Commencement Ceremony at the Lone Star College-CyFair Conference Center. 
Graduation Orientation Session
All students must attend one of our two orientation sessions to ensure their participation in the ceremony.
| | | | | |
| --- | --- | --- | --- | --- |
| Monday, May 2 |   | 2:00 p.m. |   | Conference Center 151  |
| Monday, May 2 |   | 6:00 p.m. |   | Conference Center 151  |
You must sign in 30 minutes prior to the session. You must RSVP to the orientation no later than Monday, April 27, 2016, and can register for it through Eventbrite. 
PLEASE NOTE: Your RSVP to the orientation is also your RSVP to the commencement ceremony. If you do not RSVP, LSC-CyFair will assume that you will not be attending the commencement ceremony. If you are unable to make it to orientation, please e-mail Cy-FairGraduation@lonestar.edu or see the Graduation Packet for additional details.
Commencement Day Information
The commencement ceremony will be held at the Berry Center, 8877 Barker Cypress Road, Cypress TX 77433 (a map is provided below for your convenience). Parent/Family/Guest parking is designated on the map.
Arrival
Upon arriving at the Berry Center through Entrance Two, you should see signs to direct you to the check-in room to which you need to report. You are expected to arrive no later than 7:30 am to ensure your spot. Please arrive dressed in cap and gown. You will receive your assigned seating card and additional instructions at this time from the check-in table.
Commencement Seating
There will be special assigned seating for graduates. You will be alphabetically assembled and assigned seating will take place promptly at 8:15 am in the atrium of the Berry Center.
Family and friends will be seated on a first come, first served basis and reserved seating will NOT be permitted.
Cap & Gown
Graduates participating in the commencement ceremony must wear a cap and gown, which are available for purchase at the Lone Star College-CyFair Bookstore until the close of business (2:00 pm). The cost of the cap and gown (which includes the tassel) is $38.00 plus tax. The Lone Star College-CyFair Bookstore can be reached at 281.290.5950.
Photography and DVDs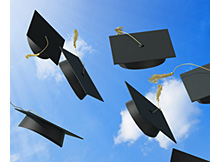 A professional photographer, from Flash Photography, will take a photograph as you are recognized on stage. Flash Photography's website is http://www.flashphotography.com/. Further information will be discussed at orientation.
Family and guests are allowed to take photographs from their seats; however, no one is permitted to block the aisles or enter the auditorium floor to take photographs.
There will be a live taping of the commencement. DVD's will be available for purchase and order forms will be available at the Orientation Session.
Invitations
Commencement invitations are available for purchase from the Lone Star College-CyFair Bookstore. The invitations are $11.99 for a package of 10. You are not required to purchase invitations from the Lone Star College Bookstore; you may purchase them from any outside source.
Regalia
Graduates who are members of Phi Theta Kappa can wear the Phi Theta Kappa stoles, tassels, and honor cords. Please contact Veronica Martinez at Veronica.Martinez@lonestar.edu or 281-290-3482. 
Graduates of the Honors Program should contact the Honors Program office at 281.290.3472 for information on stoles and medallions.
Other organization cords are allowed. Please contact the respective club organization for details. 
Dress
Participants and guests should dress comfortably and coolly. Men are encouraged to wear dark slacks, light colored shirts and dark shoes. Women are encouraged to wear cool, street-length dresses and low heel, dark shoes. Decorated, bedazzled, "custom" gowns are not permitted. Bedazzled or custom caps are permitted within certain guidelines (see the graduation packet for details). 
Diplomas
All commencement participants will receive a commemorative diploma cover during the ceremony. Graduates will receive their diploma through mail to the address specified on the graduation application after successful completion of degree requirements is certified. Diplomas are printed at our system office and typically take 8-12 weeks, from the time you complete your requirements, for arrival.
Food & Drink
No food or drinks will be allowed at the ceremony, and you are expected to remain for the entire event. Commencement generally lasts 1-1/2 to 2 hours.
Special Assistance
If a graduate is in need of any special assistance due to mobility issues, please email Cy-FairGraduation@lonestar.edu with your name and a telephone number where you can be reached no later than May 1st. Someone will contact you with further information.
Please note that the Berry Center is handicap accessible.
Graduation Ceremony Etiquette
Celebration should be respectful of other members of the graduating class.
Every graduate would like for family and friends to hear his or her name called when receiving a certificate or degree.
Graduates and guests should keep talking and movement during the ceremony to a minimum.
NO cell phones or purses allowed on graduation floor.
Remember to have fun as you take this very important step towards personal and professional enrichment.
Map of the Berry Center