LSC-Kingwood Graduation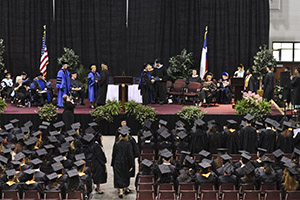 Regardless of whether your educational goal is an Associate of Applied Science, an Associate of Arts, an Associate of Science or a technical certification, there is a certain process towards obtaining your diploma or certificate. Lone Star College-Kingwood Student Services offers you the resources to complete these steps and reach your goal. From declaring a major to following up on transferred credits to applying for graduation, the appropriate tools and assistance are available.
Use these graduation steps to make sure you have everything taken care of and are ready to walk across the stage and receive your diploma.
Date and Location
M.O. Campbell Educational Center
1865 Aldine Bender Road
Houston, TX 77032
Saturday, May 12, 2018
2:00 p.m.
Graduates are expected to arrive at 12:30 p.m. to ensure participation in the ceremony.
Graduation Ceremony Etiquette
Celebration should be respectful of other members of the graduating class.
Every graduate would like for family and friends to hear his or her name called when receiving a certificate or degree.
Graduates and guests should keep talking and movement during the ceremony to a minimum.
NO CELL PHONES OR PURSES ALLOWED ON GRADUATION FLOOR.
Remember to have fun as you take this very important step towards personal and professional enrichment.
Lone Star College Regalia Policy:
Lone Star College graduates are expected to wear regalia without altering the appearance. Academic regalia has a rich history of tradition and significance we wish to honor. Please, no flowers (corsages), pins, stoles, or alterations to mortarboards. Graduates who have earned stoles through academic achievement i.e., Dean's List, Honor's program, PTK, Veterans of the Armed Forces or services to the colleges i.e., Ambassadors will wear the college approved stoles. All others are asked to respect the time-honored traditions of graduation by wearing regalia as issued. In addition, the appropriate way to wear the mortarboard is flat on top of the head and not off to the side or fixed to the back of the head by pins. Graduates are not allowed to deface their regalia.
Graduation Protocol
Cap & Gown - Graduates participating in the commencement ceremony must wear a cap and gown, which are available for purchase at the Lone Star College-Kingwood Bookstore until May 11, 2017. The cost is approximately $42.84 with tax. Gowns will be available for purchase in early April 2017.
*If the cost of cap and gown will hinder your participation in the ceremony please contact Hajra Mousam immediately via email at Hajra.A.Mousam@lonestar.edu.
Invitations - Commencement invitations may be purchased from the Lone Star College-Kingwood Bookstore or other outside sources. Invitations are sold per package of 10.
Regalia - Graduates who are members of Phi Theta Kappa Honors Society or other school sponsored organizations that may have distinctive regalia are encouraged to proudly display this earned recognition.
Dress - Participants and guests should dress comfortably and appropriately. Men are encouraged to wear dark slacks, light colored shirts and dark shoes. Women are encouraged to wear appropriate length dresses or dark slacks and low heeled, dark shoes. Do not wear flip flops or backless shoes as graduates will enter the stage via ramp.
Diplomas - All commencement participants will receive a commemorative diploma cover during the ceremony. Graduates will receive their actual diploma through mail to the address specified in their MYLONESTAR account after successful completion of degree requirements is certified. Diplomas are printed at our System Office location and typically take 6-8 weeks for arrival.
*Please check your student records account to verify a degree has been awarded before requesting a transcript.
Logistics - Graduates must pick up required seating cards at 12:30 PM to ensure proper assembly. Procession begins promptly at 2:00 PM. Do not arrive late as you will not be seated correctly and directed towards the end of the procession.
PTK - For Cap and Gowns, call Lone Star College Bookstore-Kingwood at 281.312.1699. For PTK regalia, please contact the PTK office at 281.312.1471 or you can purchase directly at www.store.ptk.org.
RSVP - Please return the enclosed RSVP card to the Student Services Welcome Center located in the John E. Pickelman Student Conference Center (SCC) no later than April 21, 2017. You may also RSVP via email to Hajra.A.Mousam@lonestar.edu or mailing Lone Star College-Kingwood Attention: Hajra Mousam Pruitt 20000 Kingwood Drive, Kingwood, TX 77339.
Orientation - All students are required to attend one orientation session

Wednesday, April 25, 2018 at 10-11am in the Music Recital Hall MUS 101

Wednesday, April 25, 2018 at 2-3 pm in the Music Recital Hall MUS 101

Wednesday, April 25, 2018 at 5:30-6:30 pm in the Music Recital Hall MUS 101

Friday, April 27, 2018 at 10-11 am in the Music Recital Hall MUS 101
Student Commencement Speaker Application
Kingwood Alumni Association
The best incentive for graduating is the opportunity to join the Kingwood Alumni Association!