LSC-Tomball Graduation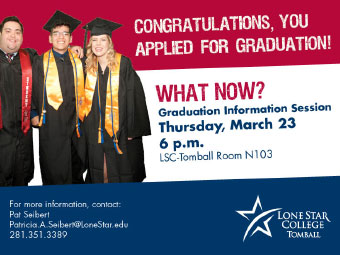 At the end of each semester, Lone Star College awards associate degrees and certificates to students who have completed their degree/certificate requirements. Students who are candidates for graduation are invited to participate in their college's commencement ceremony each May.
An application for graduation should be submitted prior to the semester that all courses work is completed.
Click Here to RSVP for the Graduation Information Session
Application for Graduation
Download instructions on completing the online graduation application.   
LSC-Tomball Commencement Ceremony
The Lone Star College-Tomball 2017 Commencement will take place on
Saturday, May 13 at 10 a.m. 
at Faithbridge Church
Klein Campus
18000 Stuebner Airline
Spring 77379  
LSC-Tomball 2017 Commencement FAQs
Q: What time should graduates arrive?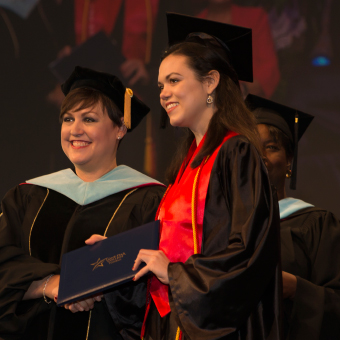 A: Graduates should arrive at 8:00 am.
Q: What time is Auditorium open for seating?
A: Auditorium will be open for guest seating at 9am.
Q: What is the dress code or what should the graduates wear?
A: Women should wear cool, street-length dress and low dark heel shoes.
A: Men should wear dark slacks, light colored shirt and dark shoes.
Q: What should graduates bring with them to commencement?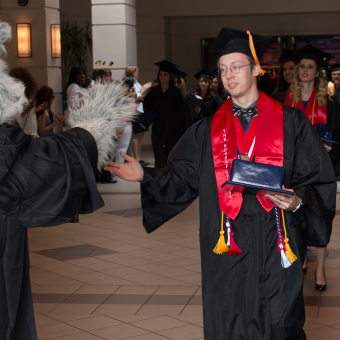 A: Graduates should leave all their personal belongings with family/friends.
A: Cell Phones should be turned-off.
Q: What is the proper way to wear my regalia?
A: Cap/Mortarboard should be flat on top of head and tassel should be to the right. *Note: White collar included with regalia will not be required to be worn.
Q: What are the smoking rules at the venue (Faithbridge).
A: The venue (Faithbridge) is a NON-SMOKING campus (inside and outside).