LSC-Tomball Graduation
At the end of each semester, Lone Star College awards associate degrees and certificates to students who have completed their degree/certificate requirements. Students who are candidates for graduation are invited to participate in their college's commencement ceremony each May.

An application for graduation should be submitted prior to the semester that all courses work is completed.
Application for Graduation
An application for graduation should be submitted prior to the semester that all courses work is completed.
Download instructions on completing the online graduation application.
LSC-Tomball Commencement Ceremony
Day/Time: Saturday, May 12 at 10 am
Location: Faithbridge Church
Klein Campus
18000 Stuebner Airline
Spring 77379
General Information
Graduation applications must be submitted by April 1, 2018 if you would like your name to appear in the Graduation program booklet.
Regalia Policy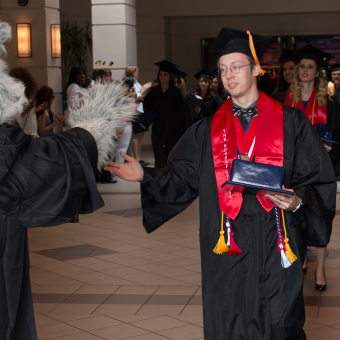 Graduates participating in the commencement ceremony must wear a cap and gown. They can be purchased at the Lone Star College-Tomball Bookstore until the close of business on Friday, May 12, 2018. The cost of the cap and gown to include the tassel, is $39.75 plus tax, and is subject to change. The Lone Star College-Tomball Bookstore can be reached at 281.351.3398
Graduates will not be allowed to participate in the Commencement ceremony with unapproved alterations or adornments to caps and gowns.
Invitations
Commencement invitations are available for purchase from the Lone Star College-Tomball Bookstore. The invitations are $11.99 for a package of 10. You are not required to purchase invitations from the Lone Star College Bookstore; you may purchase them from any outside source
Diplomas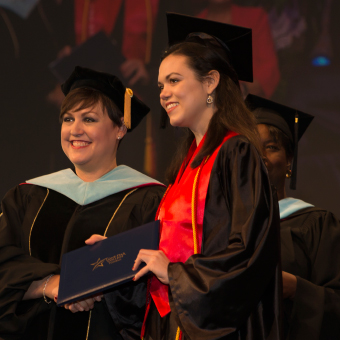 All commencement participants will receive a commemorative diploma cover during the ceremony. Graduates will receive their diploma via USPS at the address specified on the graduation application. After completion requirements have been certified, diplomas will be printed at the Lone Star College system office, and are typically mailed within 4 to 6 weeks.
Timeline
March 22nd - Graduation Rehearsal 6:00 p.m. Room E100
April 1st Last Day to Apply for Graduation and Have Your Name in the Commencement Booklet
May 7th Registration for Commencement Ceremony Closes
May 13th Commencement
Graduation Ceremony Etiquette
Celebration should be respectful of other members of the graduating class.
Every graduate would like for family and friends to hear his or her name called when receiving a certificate or degree.
Graduates and guests should keep talking and movement during the ceremony to a minimum.
NO cell phones or purses allowed on graduation floor. Please leave your belongings in your car or with your loved ones.
Remember to have fun as you take this very important step towards personal and professional enrichment.
Photography
There will be a live taping of the commencement, which can be viewed online during the ceremony. A professional photographer will take a photograph as you are recognized on stage. Further information will be provided at the Graduation Rehearsal.