Research Databases: Current Issues
For off-campus access, enter your fourteen digit library barcode number located on the back of your college ID/ library card.
No college ID or library card?
Request a college ID or library card barcode number.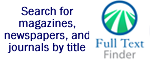 Most Useful:
Also Try:
Country Information Sites – free web

CountryWatch (LSC-North Harris only)
(CountryWatch, Inc.) Provides news, geographical, political, economic, and cultural information and maps on each of the 194 countries of the world.
Credo Reference
(Credo) Includes materials from over 650 reference books on a variety of topics in higher education, including art, business, history, languages, literature, science, criminal justice, and political science.
EBSCO eBook Collection - formerly NetLibrary
(EBSCO) Search complete electronic books. Set up a free account and download to your PC, Mac, Nook, Sony, Android, iPhone, or iPad.
Houston Chronicle - free web
(Hearst Communications Inc.) Access the electronic copy of today's Houston Chronicle
Houston Chronicle Archives - free web
(Hearst Communications Inc.) Back issue access: 1985 - 2011
MAS Ultra - Student Edition
(EBSCO) Help Full-text articles from magazines & newspapers, pamphlets, reference books, biographies, and images. (Pre-college)
Media Education Foundation Collection
(Kanopy) Streaming video source that provides access to Media Education Foundation produced documentaries covering topics such as communication, media, political science, anthropology, and more.
New York Times (LSC-University Park only)
(New York Times) Online and mobile subscription access to New York Times US, International, and Chinese editions. Use your Lone Star email address to create an account.

TexShare databases are funded in part by the Texas State Library and Archives Commission.
Save
Save