Research Databases: Current Issues
For off-campus access, enter your fourteen digit library barcode number located on the back of your college ID/ library card.  
No college ID or library card?
Request a college ID or library card barcode number.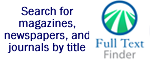 Most Useful:
Academic Search Complete 
(EBSCO) Full text of articles from journals, magazines and newspapers, plus image collections.
CQ Researcher (LSCS Libraries)
(CQ Press) Full-text, balanced, comprehensive journalistic reports and analysis of current and controversial issues of the day.
Issues and Controversies (LSCS Libraries)
(Facts on File) Full-text articles from different points of view on important issues in today's news, plus statistics and images.
LexisNexis Academic
(LexisNexis) Contains laws and court rulings as well as law reviews and legal analysis for state and federal courts; full-text U.S. and world news articles, magazines, and journals; and company profiles for private and public businesses.
MasterFILE Premier
(EBSCO) Help
Full-text articles from magazines & journals, and other sources including pamphlets, books, biographies, reports, etc.
Newspaper Source
(EBSCO) Help
Selected full-text from 30 US national and international newspapers and 200 regional papers, plus TV & radio news transcripts
Opposing Viewpoints (LSCS Libraries)
Opposing Viewpoints (LSC-CyFair, LSC-Tomball, & HCPL)
(Gale) Full text on controversial social issues from books, statistical reports, and news publications.
Statistical Abstract of the U.S. (Online Edition) (LSCS Libraries)
(ProQuest) Help
Comprehensive summary of statistics about the United States population, industries and more. Browse broad subject categories or search to locate statistics or use as a guide to more information in print and on the internet. Sources include the United States government, as well as commercial publishers.
TOPICsearch 
(EBSCO) Help
Current events database: over 100,000 articles from diverse sources & points of view, on important social/political/economic issues.
Also Try:

TexShare databases are funded in part by the Texas State Library and Archives Commission.