Research Coach - LSC-CyFair
Start Your Research Project with Proven Tips and Tools!
What Topic Should I Research?
Where Do I Search for Information?
Note:
For
off-campus access
, enter the barcode number on your college ID/ library card.
Or request a library card barcode number.
How Do I Select Sources and Organize Them?
How Do I Cite My Sources?
---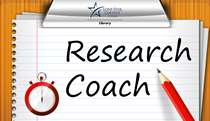 Research Tips - LSC-CyFair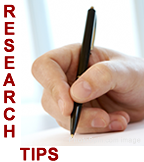 Tip #24: Discover the Best Way to Read a Scholarly Journal Article!

When you professor requests that you find scholarly journal articles in library databases, select the "peer-reviewed" or "scholarly journal" check box on a database search page. It can be a challenge to review the journal information presented because it is written in more formal language than most articles. Use the super tips listed at
Reading Journal Articles
to help you locate the most useful details for your research assignment.