LSC-University Park Department of Drama
Lone Star College-University Park Drama Department
The LSC-UP Drama Department offers a range of foundation and intermediate Drama courses to fit flexible schedules. Our low student-to-faculty ratio ensures individual attention in all classes, and our new AA in Drama is designed for students to earn their associate degree with an emphasis in Drama in two years and transfer to university for a bachelor's degree in drama. The degree offers Performance, Design/Technical Theatre, and a General track designed primarily for education majors.
We host a variety of events featuring students, faculty and professional guests. Each semester, our students showcase their work with performances in the departmentís Black Box Theatre, a flexible space that offers an intimate setting for theatrical productions, musical performances and more. We recently broke ground on our new, state of the art Visual and Performing Arts building. This is going to be designed for the student performing artist to create exciting and dynamic work.
Drama courses at LSC-University Park are taught by diverse, highly qualified faculty who are professionals in their fields and dedicated to student success.
2022-2023 Season
To purchase tickets for an upcoming production, please click here.
To schedule an audition for an upcoming production, please click the button below.
Click the image below to view the Department of Drama brochure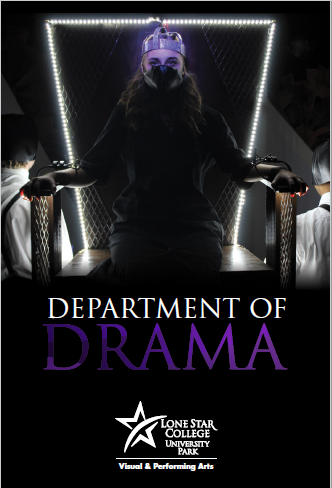 Aaron Alon, D.M.A.
Department Chair
281.290.5009
Office: B12.110
Jonathan Anderson, M.M.
Dean
281.290.5313
Office: B12.115 H
William Grayson, M.F.A.
Professor of Drama
Director of Theatre
281.290.2956
Office: B12.108
Make LSC part of your story.