Welcome!
The LSC-University Park Visual & Performing Arts Department offers educational opportunities to LSC students in the areas of art, drama and music. We host a wide variety of events and performances, providing a cultural asset to the Northwest Houston community.
Visual & Performing Arts Building: Opening 2024
The 30,000 square ft. facility includes:
338-seat Mainstage Theatre with an orchestra pit
100-seat Black Box Theatre
Art Gallery
Art Studio
Lobby with LED Video Walls
Large Music Ensemble Classroom
Customized Music Practice Rooms
Tiered Interdisciplinary Hall
Dressing Rooms
Costume Shop
Scene Shop
Collaborative Office Suite
Click on the buttons above for more information on art, drama, or music. For information on Visual Communications, a workforce program within the Visual Arts, please click here. Visual Communications includes these six areas of study: graphic design, multimedia, web design, video and post production, motion graphics and 3-D animation.
View the video below for more information about the LSC-University Park Visual & Performing Arts Department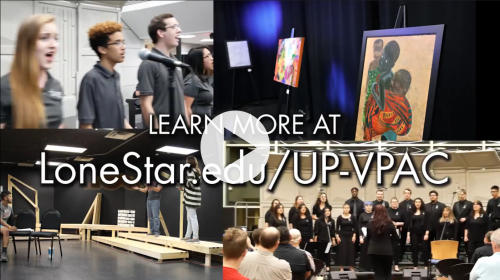 Courses
LSC-University Park offers a range of courses in art, drama and music to fit your schedule and skill level. Our low student-to-faculty ratio ensures individual attention in all classes. Our students can earn an Associate of Arts in Music and Drama. Students may also take art, drama or music courses that are fully transferrable to a four-year institution. View courses by clicking the buttons below.
Art Courses Drama Courses Music Courses
Core Classes FAQ
Events & Performances
LSC-University Park hosts a variety of art, drama and music events featuring students, faculty and professional guest artists and performers. Each semester, we showcase our drama, music, and art students and their work, along with performances and exhibits in our Black Box Theatre and other venues around campus. We are soon to break ground on our new, state of the art Visual and Performing Arts Center. This is going to be designed for the student artist to create exciting and dynamic work.
Please visit our Events Page for up-to-date information
---
Visual & Performing Arts Faculty
Aaron Alon, D.M.A.
Department Chair of Visual & Performing Arts
Director of Music, Professor of Music
281.290.5009
Office: 12.110
Bio
Amy Sluis, Ed.D.
Department Lead
Professor of Art History
281.290.5047
Office: 13.867
Bio
Kari Breitigam, M.F.A.
Professor of Art
281.290.2642
Office: 12.109
Bio
Lauren Gadson
Professor of Visual Communications
281.401.5302
Office: 13.602
William Grayson, M.F.A.
Director of Theatre, Professor of Drama
281.290.2956
Office: 12.108
Bio
Christopher Thompson, M.F.A.
Associate Professor of Art
281.290.3610
Office: 12.632
---
Frequently Asked Questions
Can I take music, drama, or visual art classes if I'm not majoring in them?
Yes, and in some cases, these courses can even count toward your degrees! Most degrees require a core class (see below) and many include elective classes, where you can take any music, drama, or visual art class (except MUSC 1191) and have it count toward your degree.
Can I take private lessons or perform in a play, musical, or music ensemble if I'm not majoring in music?
?Yes! Learn more about auditions here: LoneStar.edu/UP-Auditions.
Will my classes transfer to university?
Core classes (see below) should transfer toward the core in any public university in Texas, especially if you are core complete. Also, most courses in the AA degree plans where you earn a C or higher will typically transfer to public universities toward a bachelor's degree in the same fields.
What classes can I take toward the core?
You can use any of these classes toward the Creative Arts [50] or the Component Area Option [95] in the core:
How do I major in music, drama, or visual art?
Step 1: Declare Your Major!
Email upadvising@lonestar.edu? and request to declare your major
Step 2: Set Up an Advising Appointment
Email the chair/lead for your department to request a meeting as a new music major:
Step 3: Sign up for classes and for music/drama auditions
Use the plan developed in step 2 to enroll in classes. See the degree checklists below to help you! A degree planning sheet for art is coming soon!
Where can I find a list of available music, drama, and visual art courses?
Click the links below for more information!
Make LSC part of your story.