Chamber Singers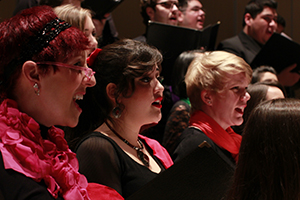 The Chamber Singers is the premiere vocal ensemble in the college, and every member is on scholarship. The ensemble tours regularly, including recent trips to New Orleans, Austin and San Antonio. Repertoire varies from the Renaissance to contemporary popular song, including a fully staged opera each spring. The Chamber Singers have worked with such noted conductors as Maria Guinand, Simon Carrington, Hugh Floyd, Allen Hightower and Jane Guild. Auditions for the ensemble are held at the beginning of each semester.

The Chamber Singers meet 12:00-2:20 p.m. on Mondays and Wednesdays in H-103. 
Major events for the Chamber Singers include:
*Solo and small ensemble performance opportunities
*Holiday Benefit Concert 
*Annual Tours 
*Annual Gala and Silent Auction
Interested in auditioning?  Contact the director, Professor Mark Marotto, at Mark.Marotto@LoneStar.edu to set up a meeting time.