LSC-Tomball Center for Civic Engagement
The LSC-Tomball Center for Civic Engagement encourages students, faculty, and staff to become active citizens involved in their communities by providing opportunities and resources to engage in empowering community activities.
Programs
The LSC-Tomball Center for Civic Engagement participates in several programs including:
Alternative Spring Break provides students with the opportunity to work on service-oriented projects with community-based organizations over the course of their spring break.
Learn More About Alternative Spring Break
Lone Star College hosts candidate forums, voter registration drives and voter registrar training.
Learn More About Engage the Election
Deliberative Dialogues provide a way for community members of diverse views and experiences to seek a shared understanding of a problem and to search for common ground for action.
Learn More About Deliberative Dialogues
Service Learning is an experiential learning component to a student's educational program which weds academic concepts with a real civic experiences.
Learn More About Service Learning
Internships
Each year Lone Star College students may choose to do internships in the offices of local elected officials such as the Office of the Mayor, State Representative, County Commissioner, or U.S. Representative. These experiences provide excellent opportunities for developing job skills and connections.
Upcoming Events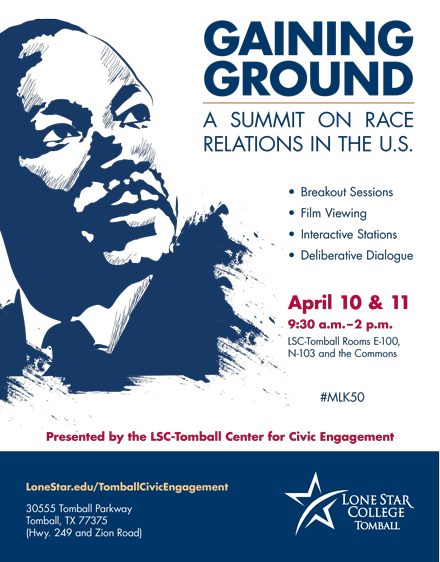 Click Here for the Summit Schedule
For a list of upcoming events, please see the CCE Calendar.
"For a community to thrive, it is necessary that individuals have a valued and vital role: watching out for one another's children, feeding and clothing the destitute, combining in civic undertakings, building the social capital of interpersonal connections."
"It is not the critic who counts, nor the man who points how the strong man stumbled or where the doer of deeds could have done them better. The credit belongs to the man who is actually in the arena; whose face is marred by dust and sweat and blood; who strives valiantly...who knows the great enthusiasms, the great devotions, and spends himself in a worthy cause; who, at best, knows the triumph of high achievement; and who, at the worst, if he fails, at least fails while daring greatly, so that his place shall never be with those cold and timid souls who know neither victory nor defeat."
Campus Centers for Civic Engagement
Volunteer Opportunities
Contact Information