Fairbanks Learning Commons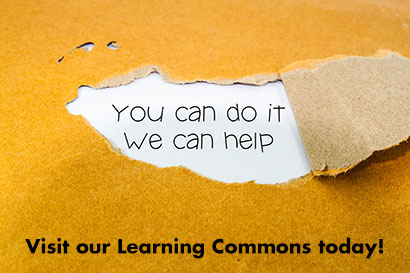 The Lone Star College-Fairbanks Center Learning Commons provides on-site use of computer and library resources.
Hours of Operation
| | |
| --- | --- |
| Monday - Thursday | 8:00 am - 8:00 pm |
| Friday | 8:00 am - 4:30 pm |
| Saturday - Sunday | CLOSED |
The Learning Commons follows the Lone Star College holiday schedule.
Services and General Information
Equipped with 32 computers
Internet and email access for class-related activities
Computer log-in process requires your myLoneStar user name and password, or a Harris County Public Library barcode and PIN. Non-students/non-library patrons will need to request a temporary user name and password
Printing/copying (10 cents/page with print card; copying is 15 cents/page with cash), scanning
Assistance with application process
Help with software questions
The Learning Commons houses several items available for instructors to check out for classroom use: assorted videos, headphones, clickers, presenters, Accelerated Learning tools, and a set of iPads
The Learning Commons also provides students with the ability to borrow calculators (graphing and 10 key), voice recorders, textbooks and headsets
Students can request materials from campus libraries to pick up at the Learning Commons
Ask a Librarian: Email CyFairLibrary@LoneStar.edu; call 281-290-3214 or text 832-463-0478
As part of the LSC-CyFair Library we benefit from partnership with the Harris County Public Library, allowing us access to exceptional programming, materials and services
Student and Staff ID cards are made in the Learning Commons. The card is also a Harris County Public Library card, with library bar code on the back. A PIN is also required for library use. Card can have money loaded onto it for printing and copying in the Learning Commons at 10 cents per page. The card can be renewed each semester of enrollment by presenting it to the Business Office for a new semester sticker. If your card needs to be replaced for any reason, a $10 replacement fee will be charged
Tutoring Center, room 113, offers free tutoring in English, ESOL, and Math.
Contact Information
Fairbanks Center
Learning Commons
Room 115
14955 Northwest Freeway
Houston, TX 77040
Phone: 832.782.5021