LSC-CyFair Modern Language Department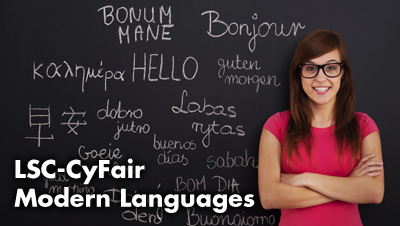 Also known as Foreign Languages or World Languages, our department's purpose is to provide tools to our students that will make them life-long language learners. We aim to expose students to different languages and cultures and facilitate their openness and appreciation to the diversity and enrichment that languages provide.
At Lone Star Collge-CyFair, we offer four different languages of various levels. Students who take languages can fulfill either multicultural or humanities core requirements, depending on the level. We also offer languages in a variety of modes – face-to-face, online and hybrid. And, as a language student as LSC-CyFair, you will also benefit from the system's only full-service language lab!
Learn More
We invite you to get to know more about us! Click on the links below for more information on:
Important Links
Contact Us
Patrick Barton
Department Chair
Professor, Speech Communication
Faculty Senate President
281.290.3473
Office: CASA 225O
Stephanie Krueger
Assistant Professor of Spanish
281.290.3268
Office: TECH 216A
Anna Pyeatt
Associate Professor of Spanish
281.290.5294
Office: TECH 100H