Language Placement Testing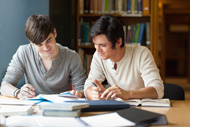 Students with previous language experience must take the Avant language placement exam prior to enrolling in language courses at LSC-CyFair. Previous language experience includes:
having taken 2 or more years of language at the middle or high school level in the last 5 years
speaking or hearing the language at home
This exam is taken at the LSC-CyFair testing center. It is taken on a walk-in basis; however, the testing center does fill up at certain times of the year. Students are advised to take the placement test at least one week before the start of the semester. Although the test is taken on campus, it is scored off campus. Therefore, we need time to receive the results. Please note that this placement test does not award credit. It places you into a class, after which you may apply for credit once you've passed the class with a C or better. Students should not study for the placement exam since we are testing your current abilities.
At LSC-CyFair we offer placement exams for Spanish, French, German and Japanese since those are the only languages offered on our campus. Please inquire at our other campuses if you would like to take placement tests for Italian, Arabic, Chinese or Portuguese.