LSC-Kingwood Library
LSC-Kingwood Library Services - Hours & Locations
*select a link below for information about hours & services
LSC-Kingwood campus, Student Conference Center (SCC)
SCC Bookstore - LSC-Kingwood IDs

Hours: Monday - Thursday,9 am - 5 pm; Friday, 9 am - 2 pm

SCC 225 - Library Instruction, Research & MLA, APA, & Chicago citation help; *bring your own device for D2L & Microsoft Word help
SCC 106B (enter from inside SCC) - Computer lab with D2L, general computer support; also Library & Research Help (9 am - 1 pm or by appointment.)

Hours: Monday - Wednesday, 9am - 5pm; Thursday, 9 am - 8 pm; Friday, 9 am - 3 pm
East Montgomery County Improvement District (EMCID)
Room 108 - Library Instruction, Research & MLA, APA, & Chicago citation help; computer lab with D2L & general computer support

Hours: Monday - Friday, 9 am - 5 pm
Location: 21575 US Highway 59 #200
New Caney, TX 77357
Telephone: 281.312.1660 or 281.312.1750
Room 125 (Library) - LSC-Kingwood or LSC-Atascocita IDs, Library instruction, Research & MLA, APA, & Chicago citation help, Reserves, Tutoring, Computer lab with D2L & basic computer support, Printing (requires a LSC print account)

Hours: Monday - Thursday, 7:30 am - 9 pm; Friday, 7:30am - 4:30pm; Saturday, 9 am - 2 pm
Public Library branches in New Caney, Humble, and Atascocita
*select the link to the libraries below to view:
hours
phone numbers and location
number/size of public use computers, meeting rooms, and computer labs.
Public use computers generally require a public library card, so bring identification. Printing requires the purchase of a print card. Reservations for meeting rooms & labs can be made online. These are also LSC Libraries partners, so you can request books and videos in the library catalog and pick them up at these locations or any Lone Star, Montgomery County, or Harris County library branch.
Since you asked ... About Donations
---
Help for Students
See the LSC-Kingwood Tutoring Center for updates and more information, including Math, Science, and Computer Science tutoring schedules! New Fall schedules for tutoring in multiple locations!
Learn more about instruction, collection development, and research support services by division. Includes links to professional development staff and more.
Ask a Librarian
Keep current and stay engaged!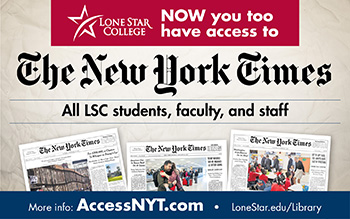 Register
, create a login, and access via a
mobile app
, or your computer or tablet.
Ask LSC-Kingwood Library

Staff Directory * Meet Your Librarian
Library instruction, research help & more are available now at LSC-Kingwood - SCC 225 & Mobile Go lab, EMCID Room 108, and LSC-Atascocita Library & Learning Center. See all of our hours at the top of this page.
.
Email


Reference:
Kingwood.LRC-Ref@LoneStar.edu
Circulation:
Kingwood.LRC-Circ@LoneStar.edu