LSC-Montgomery Nursing Department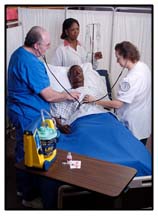 LSC-Montgomery offers training to become a Vocational Nurse (LVN), and two options to become a Registered Nurse (RN).
Vocational Nursing – Always in high demand, vocational nurses provide a wide variety of essential patient care, under the supervision of a registered nurse or physician. Graduates are eligible for licensing as an LVN and typically pursue careers at hospitals, long-term facilities, clinics, and other healthcare facilities.
Associate Degree Nursing – Combining the art of caring with the science of nursing, the Associate Degree Nursing (ADN) Program is one of the most in-demand, high-growth career tracks in the industry. Graduates are eligible to become a registered nurse (RN), providing and coordinating care for patients in a variety of healthcare settings. Two options are available to achieve an ADN at LSC-Montgomery. Students can earn their ADN in the Transition program which is designed to transition LVN and Licensed Paramedic (LPM) in earning their ADN. An ADN is also achievable through the Basic Track program, a two-year program designed for students with no previous nursing or paramedic education.
Programs Offered
Nursing AAS Degree (Integrated Curriculum)
Transition To Professional Nursing For Articulating Students AAS Degree (Integrated Curriculum)
Nursing Assistant Certificate
Vocational Nursing Certificate
If you are interested in one of the Non-Credit Fast Track programs listed below, please visit the Continuing Education Office on the second floor of the Administration Building (Bldg. E).
Clinical Medical Assistant
Nurse Aide (CNA)
Patient Care Technician
Nursing Programs General Information
For more information on our nursing programs follow the links below.
Vocational Nursing
LVN/LP Transition to ADN
ADN/Basic Track
Program Outcomes
2016 LSC Montgomery Program Outcomes

ACEN 6.2 Graduate Achievement on Licensure Exam

Expected Level of Achievement (ELA): – a score at or above state & national levels

Official NCLEX Program Pass Rate:

86.21%

Basic Track Pass Rate: 91%

Transition Pass Rate: 83%

National Pass Rate: 83%

Texas State Pass Rate: 87.14%

ACEN 6.3 Graduate Achievement in Program Completion

ELA: 80% of the students will complete the program in 150% of the time.

Basic Track: 85% (33/39)*

Transition Track: 89% (24/27)*

ACEN 6.4 Graduate Achievement in Job Placement

ELA: 80% of the graduates will report securing a job in nursing at the time of the new grad survey

ADN & Transition:


91% report jobs within nursing
Printable Outcomes
Information Sessions
It is strongly recommended for prospective nursing students to attend an information session to learn more about the profession and requirements of each of the nursing programs. No reservations are needed to attend an information session on the LSC-Montgomery campus. See the table below for scheduled information sessions.
| | | |
| --- | --- | --- |
| Date | Time | Location |
| Wednesday, August 23, 2017 | 3:00 pm – 4:30 pm | B-102 |
| Thursday, September 7, 2017 | 2:00 pm – 3:30 pm | B-102 |
| Friday, September 22, 2017 | 12:00 pm - 1:30 pm | B-102 |
| Tuesday, October 10, 2017 | 2:00 pm – 3:30 pm | B-102 |
| Tuesday, October 31, 2017 | 12:00 pm - 1:30 pm | B-102 |
| Thursday, November 9, 2017 | 2:00 pm – 3:30 pm | B-102 |
| Tuesday, December 5, 2017 | 12:00 pm - 1:30 pm | B-102 |
NOTE on CPR certification: Students are required to show proof of a valid certificate of American Heart Association Basic Life Support for Health Care Providers. Certification through an online course will not be accepted.
Nursing Program Application Periods
The following dates reflect the application periods for each nursing program we offer. The deadline to take the HESI exam is one to two weeks prior to each programs application deadline. The deadline to turn in all paperwork is 4 p.m. on the last day of the application period. The online application can be found on the Lone Star College Nursing page at http://www.lonestar.edu/nursing-requirements.htm.
| | |
| --- | --- |
| Nursing Program | Application Period |
| LVN | 1/16/2018 - 3/2/2018 |
| LVN (alternates) | TBA |
| LVN/LP Transition to ADN | 1/22/2018 - 3/21/2018 |
| RN Basic Track (ADN) | 1/22/2018 - 3/21/2018 |
HESI Information
HESI (A2) Information
Practice HESI (A2) Tests
Accreditation & Approval
Lone Star College System's Nursing Programs are approved and regulated by the Texas Board of Nursing, https://www.bon.texas.gov/, whose mission is to protect and promote the welfare of the people of Texas by ensuring that each person holding a license as a nurse in the State of Texas is competent to practice safely. Questions, comments, or concerns can be forwarded to the Executive Director, Katherine Thomas, MN, RN. Contact information for the Texas Board of Nursing is below.
Texas Board of Nursing
333 Guadalupe Street, Suite #3-460
Austin, Texas 78701
Office: (512) 305-7400
Fax: (512) 305-7401
http://www.bon.state.tx.us/
The Associate Degree Nursing and Transition to Professional Nursing Program are accredited by the Accreditation Commission for Education in Nursing (ACEN) http://www.acenursing.org. The purpose of the ACEN is to provide specialized accreditation for all types of nursing programs, including clinical doctorate/DNP specialist certificate, master's/post-master's certificate, baccalaureate, associate, diploma, and practical nursing programs. The ACEN accredits nursing programs in secondary, postsecondary, and hospital-based governing organizations that offer certificates, diplomas, or degrees. Questions, comments, or concerns can be sent to the ACEN at nlnac@nlnac.org or through the contact information below.
Accreditation Commission for Education in Nursing, Inc.
3343 Peachtree Road NE, Suite 850
Atlanta, Georgia 30326
Phone: 404.975.5000
Fax: 404.975.5020
http://www.acenursing.org/
FAQs