LSC-Montgomery Nursing Department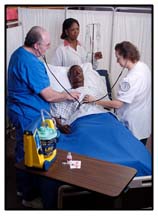 LSC-Montgomery offers training to become a Licensed Vocational Nurse (LVN), and two options to become a Registered Nurse (RN). 
Vocational Nursing – Always in high demand, licensed vocational nurses provide a wide variety of essential patient care, under the supervision of a registered nurse or physician.  Graduates are eligible for licensing as an LVN and typically pursue careers at hospitals, long-term facilities, clinics, and other healthcare facilities. 
Associate Degree Nursing  -- Combining the art of caring with the science of nursing, the Associate Degree Nursing (ADN) Program is one of the most in-demand, high-growth career tracks in the industry.  Graduates are eligible to become a registered nurse (RN), providing and coordinating care for patients in a variety of healthcare settings. Two options are available to achieve an ADN at LSC-Montgomery.  Students can earn their ADN in the Transition program which is designed to transition LVN and Licensed Paramedic (LPM) in earning their ADN. An ADN is also achievable through the Basic Track program, a two-year program designed for students with no previous nursing or paramedic education.
For more information about accreditation and approval click here.
Information Sessions:
It is mandatory for prospective nursing students to attend an information session to learn more about the profession and requirements of each of the nursing programs.  No reservations are needed to attend an information session on the LSC-Montgomery campus.  See the table below for scheduled information sessions. 
| | | |
| --- | --- | --- |
| Date | Time | Location |
|  Monday, September 29, 2014 | 12:00 pm - 1:30 pm  | B-102   |
|  Monday, October 13, 2014 | 2:00 pm - 3:30 pm  | B-102   |
|  Tuesday, October 28, 2014 | 2:00 pm - 3:30 pm  | B-102  |
|  Monday, November 24, 2014 | 2:00 pm - 3:30 pm  | B-102  |
Nursing Programs General Information
Click on your nursing program of choice for more information.


Nursing Program Application Periods
The following dates reflect the application periods for each nursing program we offer.  The deadline to take the HESI exam is one week prior to each programs application deadline.  The deadline to turn in all paperwork is 4 p.m. on the last day of the application period. 
The online application can be found on the Lone Star College System Nursing page at http://www.lonestar.edu/nursing-requirements.htm.