Student Life: LSC-Montgomery
The Lone Star College-Montgomery Office of Student Life promotes student success by engaging students in a variety of opportunities that support their cultural, social, intellectual, Leadership, Personal and physical development while enhancing their overall college experience.
Events
Throughout the Semester the Office of Student Life holds events across campus so that students can GET CONNECTED and GET INVOLVED. If you would like more information about attending or volunteering to help at our events contact us today. To see a list of campus events please visit the online calendar. Remember to bring your student ID to all activities for discounts and freebies.
Community Service
Student Life offers many opportunities for students to volunteer their time and efforts into helping our community. If you are interested in getting involved please visit our Volunteer Opportunities page.
Volunteer Opportunities
Days of Caring
Please join the Office of Student Life in the final community service project of the semester. LSC-Montgomery will partner with United Way, Salvation Army, Angel Tree, and Toys for Tots to sort, package, and prepare gifts for less fortunate families in Montgomery County. This project is ran solely by volunteers. Get involved and make an impact on our community. Sign-up Today!
Location:
Conroe Outlet Mall - Store #101 (empty building with windows covered in paper; old Nike outlet)
Dates:
Choose your shift(s) on December 13, 14, or 16 from 10 a.m. - 5 p.m.
Run for Hope
Thank you for wanting to help with our Love Fosters Hope RUN FOR HOPE to be held on October 22 at Market Street. There are many volunteer opportunities either before the event or on the day of the event. Choose as many open spots as you want! If you are unable to volunteer for the date(s) and time(s) you choose. Sign-up Today!
Location: Market Street, The Woodlands
Dates: Choose your shift(s) on October 17, 20, 21, or 22. Times vary–check sign-up form for details.
Outdoor Adventure
What adventures would you like to go on this fall semester? We want to know what you think. Please take this short survey and help us schedule some great Outdoor Adventures.


Huntsville State Park Camping
Friday, November 4 at 2 p.m.
Huntsville State Park
565 Park Road 40 west, Huntsville
Sign-up: State Park Camping Form
Free for the first 20 students to sign-up


Main Event Rec Tournament
Monday, November 14 at 4-6 p.m.
Main Event Entertainment
19441 I-45 North
Sign-up: Main Event Form
Free for the first 20 students to sign-up


LSC Golf Tournament
Friday, November 18 at 11 a.m.
Wind Rose Golf Course
6235 Pinelakes Blvd, Spring
Sign-up: LSC Golf Tournament Form
Free for all Lone Star College Students.
Faculty and Staff are invited to play for $39
Top Golf
Wednesday, December 7 at 2 p.m.
Top Golf
560 Spring Park Center Blvd, Spring
Sign-up: Paintball Form
Free for the first 12 students to sign-up
Student Government Association
Bryan Garcia, BELS Senator of the Student Government Association, was recently elected to the Region V Board Parliamentarian position at the TJCSGA State Conference in Dallas, TX. Bryan will serve as the Region V Parliamentarian for the 2015-2016 school year. TJCSGA is the only student maintained organization in the state that works to promote the cause of community college students at the local, regional, state, and national level. Congratulations, Bryan!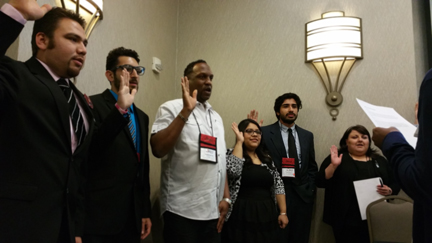 Pictured above are representatives elected to the Region V Board in Dallas, TX on April 11th, 2015. Bryan is second from the right.
Student Life Game Room
The Office of Student Life sponsors a Game Room located in Building A, in the Commons. Come to the Game Room and enjoy Billiards, Foosball, and video games on the Xbox 360 or Wii!
The following games for checkout as well:
Checkers, Taboo, Headbands, Battleship, Sequence, Connect Four, Puzzles, Mad Gab, Jenga, Yahtzee, Backgammon, Pictionary, Scattergories, Dominoes, & Mancala
---

Office of Student Life
LSC-Montgomery
3200 College Park Drive
Commons (Bldg. A)
Conroe TX 77384-4500
Phone: 936.273.7082
Hours of Operation
Monday-Thursday
8 a.m. - 5 p.m.
Friday
8 a.m. - 3 p.m. 
Game Room
Monday-Thursday
10:00 a.m. - 3:00 p.m.
Friday
10:00 a.m. - 2:00 p.m.