Student Life: LSC-Montgomery
The Lone Star College-Montgomery Office of Student Life promotes student success by engaging students in a variety of opportunities that support their cultural, social, intellectual, and physical development while enhancing their overall college experience.
Events
Throughout the Semester the Office of Student Life holds events across campus so that students can GET CONNECTED and GET INVOLVED. If you would like more information about attending or volunteering to help at our events contact us today.To see a list of campus events please visit the online calendar. Remember to bring your student ID to all activities for discounts and freebies.
Flag Football Tournament & Tailgate Party
April 24
Party: 10:30 a.m. - 1:30 p.m.
Tournament: 10 a.m. - 7 p.m.
Come help us support our campus team as they compete in the flag-football tournament. We will be hosting a tailgate party, so join us for free food, prizes, and games!
April is National Child Abuse Prevention Month. All event proceed will go towards child abuse prevention.
Club & Sports Spotlight
Operation Pets Alive
The Maverick Film Club takes a break from watching movies to volunteer at the Operation Pets Alive Valentine Sale. The club clocked in several hours to raise over $2,500 to put at-risk pets in Montgomery County on a Flight for Life to New Hampshire where they are in need of adoptable pets.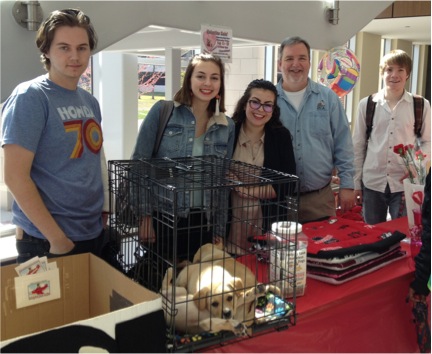 Pictured left to right are: Charlie Shupp, Sophia Loporcaro, Claudia Cortez, Prof Kevin Sumrall (club advisor), and Christian Love. Pictured in the kennel are four at-risk pups rescued from the local shelter- Bels, Nash, Maverick and Monet.
Clubs
There are over 30 Student Clubs and Organizations that are offered to LSC-Montgomery students that focus on enriching your college experience and provide leadership opportunities. So what are you waiting for? GET CONNECTED!
Sports
LSC-Montgomery has many recreational sports teams to help student stay fit, stay healthy and create many college memories! For those students who are competitive and want to travel to play other colleges you can try out for one of our sports clubs.
Student Life Game Room
The Office of Student Life sponsors a Game Room located in Building A, in the Commons. Come to the Game Room and enjoy Billiards, Foosball, and video games on the Xbox 360 or Wii!
The following games for checkout as well:
Checkers, Taboo, Headbands, Battleship, Sequence, Connect Four, Puzzles, Mad Gab, Jenga, Yahtzee, Backgammon, Pictionary, Scattergories, Dominoes, & Mancala
Office of Student Life
LSC-Montgomery
3200 College Park Drive
Commons (Bldg. A)
Conroe TX 77384-4500
Phone: 936.273.7082
Hours of Operation
Monday-Thursday
8 a.m. - 6 p.m.
Friday 8 a.m. - 5 p.m.
Game Room
Monday-Thursday
8:30 a.m. - 5:30 p.m.
Friday 8:30 a.m. - 3:30 p.m.