Student Life: LSC-Montgomery
The Lone Star College-Montgomery Office of Student Life promotes student success by engaging students in a variety of opportunities that support their cultural, social, intellectual, Leadership, Personal and physical development while enhancing their overall college experience.
Events
Throughout the Semester the Office of Student Life holds events across campus so that students can GET CONNECTED and GET INVOLVED. If you would like more information about attending or volunteering to help at our events contact us today.To see a list of campus events please visit the online calendar. Remember to bring your student ID to all activities for discounts and freebies.
Bring It Back: Welcome Week 2015
August 24 - 27
Monday & Tuesday: Building A
Wednesday & Thursday: Building B
This week Lone Star College-Montgomery's Office of Student Life will be welcoming both new students on campus and those returning. Bring it back with us as we celebrate with free food, games, and awesome giveaways. Also, don't forget to grab your popcorn and snacks and join us on Wednesday and Thursday as we screen the 1980s sci-fi classic, Back to the Future. The movie will run continually between 11 a.m. and 5 p.m.
Great Scott! There's more! Check out the itinerary below for our entire list of Welcome Week events for the first six weeks.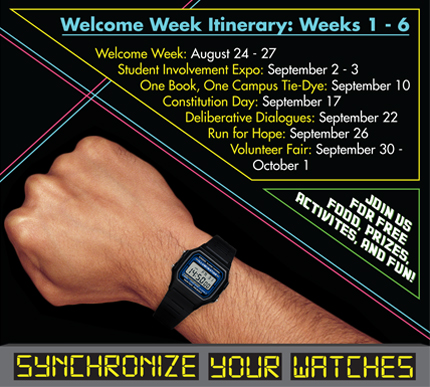 Club & Sports Spotlight
Student Government Association
Bryan Garcia, BELS Senator of the Student Government Association, was recently elected to the Region V Board Parliamentarian position at the TJCSGA State Conference in Dallas, TX. Bryan will serve as the Region V Parliamentarian for the 2015-2016 school year. TJCSGA is the only student maintained organization in the state that works to promote the cause of community college students at the local, regional, state, and national level. Congratulations, Bryan!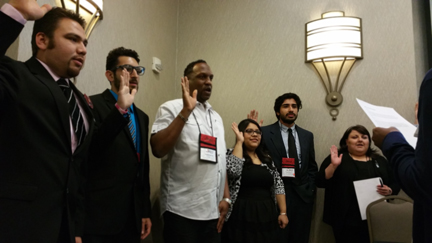 Pictured above are representatives elected to the Region V Board in Dallas, TX on April 11th, 2015. Bryan is second from the right.
Student Nurse Organization
Darla Miller, President of the Student Nurse Organization, was selected to receive the Houston Chronicle Salute to Nurses Scholarship. This award recognizes outstanding nursing students by presenting them with a $1,000 scholarship. Darla is one of three students who were selected from over 700 nominations. Congratulations to Darla on her outstanding achievement!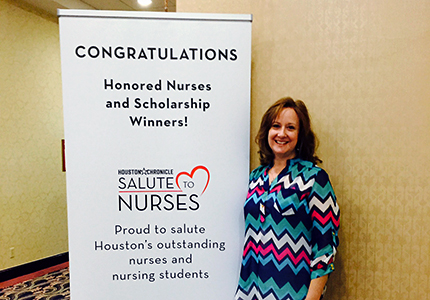 Darla Miller, Houston Chronicle Salute to Nurses Scholarship winner.
Student Life Game Room
The Office of Student Life sponsors a Game Room located in Building A, in the Commons. Come to the Game Room and enjoy Billiards, Foosball, and video games on the Xbox 360 or Wii!
The following games for checkout as well:
Checkers, Taboo, Headbands, Battleship, Sequence, Connect Four, Puzzles, Mad Gab, Jenga, Yahtzee, Backgammon, Pictionary, Scattergories, Dominoes, & Mancala
---

Office of Student Life
LSC-Montgomery
3200 College Park Drive
Commons (Bldg. A)
Conroe TX 77384-4500
Phone: 936.273.7082
Hours of Operation
Monday-Thursday
8 a.m. - 5 p.m.
Game Room
Monday-Wednesday
9:30 a.m. - 1:30 p.m.
Thursday
9:30 a.m. - 1 p.m.