Student Services
Welcome to Lone Star College Student Services! Our goal is to help you soar both academically and socially while attending LSC. We provide support and services to students, parents, faculty, staff and community members. This includes:
Admissions
Advising
Registration
Learning Centers
Tutoring
Placement testing
Counseling
Career exploration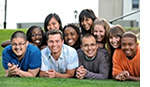 We also offer unique services for students with disabilities, resources for military veterans and social communities for international students.
 You are our number one priority and we strongly feel that we can't consider ourselves a success unless you are successful. Even if it means providing on-campus childcare so you can attend class worry-free. Or offering over 80 clubs and organizations to enhance your campus life. We're committed to making sure you get the most out of your time here at Lone Star College.
Think learning. Think local. Think Lone Star.