LSC-Kingwood Library
The library will be open Friday, August 19, from 7:30am - 4:30pm.  The library will be CLOSED on Saturday, August 20.

Inservice Week hours for August 22 - 27: Monday - Tuesday, 12pm - 4:30pm; Wednesday - Friday, 8am - 4:30 pm; Saturday, 9am - 2pm. Check other LSCS Libraries for special hours. Regular hours begin Monday, August 29.

Help for Students
Citation Help
Visual Guides for Research Papers:
My Print Center
Log in to MyPrintCenter to add value to your LSCS print account with a credit or debit card or PayPal account ($5 minimum)
LSC-Kingwood Community Resource Guide

Tutoring Services
Provided through the Learning Center.
Learn more about instruction, collection development, and research support services by division. Includes links to professional development staff and more.
---
---
What Do You Need to Know ?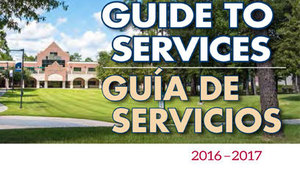 Find out all that LSC-Kingwood offers!
Ask LSC-Kingwood Library
Staff Directory
  * Meet Your Librarian


Fall Library hours begin Monday, August 29: 

Monday - Thursday
   7:30 a.m. - 9 p.m.
Friday & Saturday
   9 a.m. - 2 p.m.
Sunday
   CLOSED
Phone


Reference: 281.312.1693
Circulation: 281.312.1691
Fax: 281.312.1456
Email


Reference:
Kingwood.LRC-Ref@LoneStar.edu
Circulation:
Kingwood.LRC-Circ@LoneStar.edu
Visit Us



20000 Kingwood Dr.
Kingwood, TX 77339 
Campus & Road Map