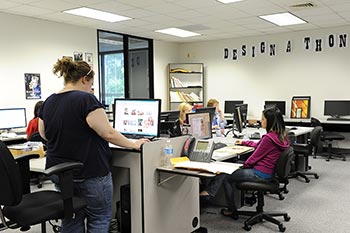 Nonprofit organizations in the community in need of brochures, logos or other promotional materials can sign up to be a part of the Visual Communication's 15th annual Design-A-Thon at Lone Star College-Kingwood.
Design-A-Thon 2019 will take place Friday, April 12 from 8 a.m.-8 p.m. in the Technology Instructional Building (TIB) room 202. The 12-hour event allows nonprofits a chance to receive free graphic design work while the students earn community service learning credit, design pieces for their portfolio and experience a great and rewarding opportunity.
"In our first 14 years, we had about 350 students to donate hundreds of work hours and have completed approximately 450 projects. Each year, we have helped anywhere from nine to 50 local area nonprofit organizations, and as word spreads, that number grows," said Zoila Donneys, graphic designer and Visual Communication professor at LSC-Kingwood. "Our students donate 12 straight hours in a creative mindset, with different projects going on with a real deadline to meet, giving them a real feel of what it will be like in their future career."
The purpose of Design-A-Thon is to reach out to the local community, specifically local area nonprofit organizations. These usually are groups that do not have the time, resources, or the ability to create effective promotional materials to help make the community aware of who they are, why they exist and what they have to offer. Projects that will be accepted are logos/stationary, fliers, posters, banners, book covers, in-store displays, advertisements, brochures, animations, presentations, and web pages.
Nonprofits interested in submitting work for this year's Design-A-Thon are asked to do so as soon as possible. Submission requests and more information can be obtained at lonestar.edu/design-a-thon.htm or by contacting Zoila Donneys at 281-312-1759 or Zoila.M.Donneys@lonestar.edu.
Register now for credit classes online through myLoneStar. Classes are offered days, evenings, or weekends in traditional, online and hybrid formats. For more information or to register online, visit www.lonestar.edu/registration. For general information about Lone Star College-Kingwood, call 281.312.1600 or visit http://lonestar.edu/kingwood.
Lone Star College offers high-quality, low-cost academic transfer and career training education to 99,000 students each semester. LSC is training tomorrow's workforce today and redefining the community college experience to support student success. Stephen C. Head, Ph.D., serves as chancellor of LSC, the largest institution of higher education in the Houston area with an annual economic impact of nearly $3 billion. LSC consists of six colleges, 10 centers, two university centers, Lone Star Corporate College and LSC-Online. To learn more, visit LoneStar.edu.
###